Finding a Place for Cannabis Cash
Anthony Rivera wants Indian tribes to serve the $3 billion trade.
By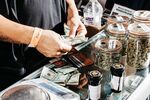 Shaun Gindi brought a duffel bag stuffed with a thousand $20 bills to open a checking account at his local Chase branch. The bank closed his account after a week. As the owner of two marijuana shops and a weed warehouse in Colorado, where the drug is legal, Gindi is a pariah to banks, which face expensive compliance hurdles and uncertain legal consequences because the marijuana business still violates federal law. Of the more than 7,600 banks and credit unions in the U.S., only about 220 accept cannabis cash, according to the Department of the Treasury. "I've gone through at least eight banks," Gindi says.
Anthony Rivera Jr., a Harvard Business School graduate who led the 1,940 members of the Acjachemen Nation in Southern California for almost a decade, says he has a solution: an American Indian banking system. His organization, CannaNative, is trying to link tribal leaders from the 566 sovereign Indian nations, which aren't subject to U.S. banking laws, with finance professionals and legal marijuana businesses. The goal is to use the expertise gained from decades of managing casinos to create banks or credit unions to tap a market the big banks won't touch—the legal pot industry's estimated $3 billion in annual revenue. "The Indian casinos are basically small little banks," Rivera says. "They receive deposits in the form of gaming, and they manage that cash in a way which is highly regulated."
Rivera's partners at CannaNative, Andy Nakai and Cedric Black Eagle, have held leadership positions in the Navajo and Crow nations. Nakai is the vice chairman for the board of directors of the Navajo Community Development Financial Institution, and Black Eagle served as chairman of the Crow Nation Executive Branch. "Having CannaNative to be the voice, I think the native people will listen to them," says Larry Banegas, a member of the Barona Band of the Kumeyaay Nation, the largest tribe in Southern California.
CannaNative is emulating the casino model of the 1980s by hiring managers from cannabis companies, such as Medical Marijuana, to teach tribes how to set up financial institutions for the budding industry. "When Indian gaming became legalized, tribes didn't know how to run casinos, so many companies that knew how to run gaming operations became managers of the tribal enterprise until the tribe figured it out," Rivera says. "Then the tribe took it over."
Since 2012, Alaska, Colorado, Oregon, Washington, and the District of Columbia have legalized cannabis for adult recreational use, and 23 states have approved medical marijuana, according to the National Conference of State Legislatures. In October 2014 the Department of Justice said tribes could legalize marijuana for medicinal, agricultural, and recreational use the same way individual states do.
As long as federal law bans marijuana, conventional banks will be wary. So for now, Gindi's job will continue to involve duffel bags bulging with cash. "I don't want people out there to know that there is ever a large amount of cash in somebody's car," he says. "We all just want to follow the rules."
The bottom line: Only about 220 of America's 7,600 banks and credit unions will do business with legal marijuana companies.
Before it's here, it's on the Bloomberg Terminal.
LEARN MORE