Ex-House Speaker Dennis Hastert Reaches Plea Deal in Hush-Money Case
By
Federal prosecutors say they have an agreement in principle

U.S. says he sought to hide payoffs tied to sexual misconduct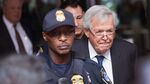 Former House Speaker J. Dennis Hastert reached a tentative plea deal with U.S. prosecutors, marking the possible end to a case in which he was accused of dodging banking laws and lying to federal agents about payoffs meant to hide sexual "misconduct" decades ago.
It was the nature of the alleged wrongdoing that reverberated across the country. Hastert was trying to keep quiet allegations from his days as a high school teacher and wrestling coach, according to a U.S. official who requested anonymity. The 73-year-old is accused of withdrawing almost $1 million from bank accounts, in increments below a $10,000 reporting trigger, to buy the silence of an unidentified individual. Later, he allegedly lied about it to federal investigators.
Hastert, a Republican from Plano, Illinois, was second in line to the U.S. presidency when he was speaker. He pleaded not guilty in June and faces a maximum of five years in prison on each of the charges against him.
Court Hearing
Lawyers for both sides appeared briefly Thursday before U.S. District Judge Thomas Durkin in Chicago, announcing a change of Hastert's plea. Joe Fitzpatrick, a spokesman for Chicago U.S. Attorney Zachary Fardon, said both sides had reached an "agreement in principle."
Hastert wasn't in court, and Fitzpatrick didn't say whether the former congressman would face jail time under the deal. Defense attorney John Gallo declined to comment.
The next court date is Oct. 28, at which point Hastert may enter a guilty plea. Durkin instructed the lawyers to file the plea agreement by Monday.
Eight Years
Hastert served in Congress from 1987 to 2007, the last eight years as speaker. Prior to that he'd been a teacher and wrestling coach at Yorkville High School, about 55 miles southwest of Chicago and about six miles east of Plano.
The U.S. official briefed on the probe, who described the case on the condition of anonymity because the prosecution was ongoing, wouldn't say whether the person being paid was one of Hastert's students or wrestlers, or if he was a juvenile at the time of the purported misconduct.
The person, now an adult identified only as "Individual A," was paid to protect Hastert's reputation, according to the official.
The case is U.S. v. Hastert, 15-cr-00315, U.S. District Court, Northern District of Illinois (Chicago).