business
BYD to Expand U.K. Electric-Bus Production
Bloomberg News
U.K. bus output said to expand to 200 units per year

BYD's growth in Europe follows bus build-up in California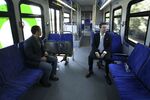 BYD Co., the Chinese electric-vehicle manufacturer backed by Berkshire Hathaway Inc., plans to expand U.K. production to about 200 electric buses a year and is negotiating to set up a factory in Europe to meet rising demand, according to a person familiar with the matter.
BYD's Europe ambitions are growing after reaching an agreement in July to build 51 electric buses with U.K.-based Alexander Dennis Ltd. for use in London. The two companies plan to announce the increase in production next week, according to the person, who declined to be named as the matter is private. A security employee answering the phone at the headquarters of Alexander Dennis said to call during regular business hours.
The company is evaluating different European countries outside the U.K. for a new factory that would lower costs for exports and logistics, according to the person. The plant may be wholly owned by BYD or operated with local partners, the person said.
The planned expansion and new factory in Europe adds to BYD's growing presence outside China, as it's also set up two plants in California to supply electric buses. The company, which started out manufacturing batteries for mobile-phone companies, also began selling portable power-storage units in Germany this year.
BYD has exported China-made buses to countries including the U.S., Holland, Spain, Germany, Canada and Brazil.
— With assistance by Ying Tian
Before it's here, it's on the Bloomberg Terminal.
LEARN MORE