Burberry Slumps on Profit Outlook After Asian Sales Drop
by
Shares decline as much as 12%, steepest drop in three years

Second-quarter revenue was `far worse than feared': analyst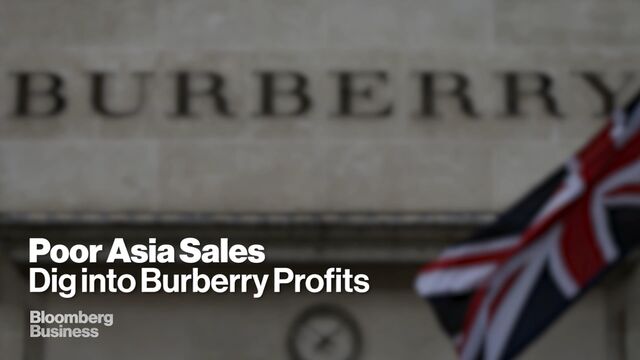 Burberry Group Plc shares fell the most since 2012 after the U.K. luxury-goods maker indicated profit will probably decline for a second straight year after sales in the key market of Asia dropped.
Full-year adjusted pretax profit will be "broadly in line" with 445 million pounds ($689 million), which is the average of recently reduced analysts' estimates, London-based Burberry said Thursday. Second-quarter retail sales climbed 1 percent on a comparable basis, the slowest pace in three years.
Revenue in that period was "far worse than feared," wrote Rogerio Fujimori, an analyst at RBC Capital Markets.
Slowing demand in China and Hong Kong has weighed on all luxury goods makers, yet Burberry is in a weaker position than most. The maker of 45-pound scents and 1,995-pound shearling trenchcoats gets more than 30 percent of revenue from Chinese consumers, yet only 2 percent from Japan, where many of those shoppers are traveling to buy goods at an advantageous exchange rate.
The shares fell as much as 13 percent and traded 12 percent lower at 1,243 pence as of 9:04 a.m. in London.
Geography Effect
"While we do not question Burberry's brand equity, strategy or execution, the trading environment is tough and only amplified by its geography mix," said Ashley Wallace, an analyst at Bank of America Merrill Lynch who downgraded the stock to neutral from buy.
Burberry's focus on the U.K. has become a handicap, as that market accounts for about 40 percent of Burberry's European retail sales. Many shoppers with dollars in their wallets are taking advantage of a weaker euro and shopping on the continent, according to MainFirst Bank AG.
To meet its profit target, Burberry has trimmed its annual budget by 20 million pounds and cut performance-related pay, Chief Financial Officer Carol Fairweather said on a call with reporters.
"We have accelerated action to control costs, from only recruiting for business-critical roles to reducing travel expenses and other discretionary costs," she said. Burberry is "still protecting investment in marketing, retail service and growth opportunities."
Misses Consensus
Six-month revenue was little changed at 1.11 billion pounds, Burberry said. Analysts predicted 1.16 billion pounds, based on the average of estimates compiled by Bloomberg. Burberry said demand in the U.S. was uneven and Asia Pacific sales had a mid-single digit decline, with Hong Kong decelerating further in the second quarter.
The company said it expects a return to mid-single digit percentage growth in comparable sales in the second half. Exchange rates at current levels should boost earnings by about 10 million pounds, half the amount Burberry forecast in July.
The return to a more positive sales trend will be driven by the initiatives Burberry had already planned and those it has "refined and accelerated" in recent weeks, Fairweather said on the call. These include Burberry's "strongest ever" holiday campaign that it will launch next month; the development of new products such as lightweight cashmere trenchcoats and ponchos; and new styles of Burberry's scarves.
Before it's here, it's on the Bloomberg Terminal.
LEARN MORE