Turnbull's Free-Market Pledges Revive U.S.-Aussie Grain M&A Bets
by
GrainCorp rises 14% since former banker Turnbull takes power

New government, decline in Aussie dollar make fresh bid easier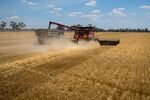 Traders are betting the former investment banker governing Australia has opened the door for the nation's biggest-ever agriculture deal.
Australian crop handler GrainCorp Ltd. has risen 14 percent since Malcolm Turnbull became prime minister last month, pledging to run "a thoroughly Liberal government committed to freedom, the individual and the market." U.S. agribusiness giant Archer-Daniels-Midland Co. may come back with another offer for GrainCorp, since the leadership that blocked the A$2.2 billion ($1.6 billion) bid it made three years ago was ousted, according to Morgans Financial Ltd. and Kidder Williams Ltd.
"The government has been giving ADM positive signals for some time," said David Williams, managing director of corporate adviser Kidder Williams. "I don't think they are in any doubt that the country is open for business and that they would get a more favorable reception than last time."
After Turnbull ousted Tony Abbott and ditched his Treasurer Joe Hockey, the new government will be more open to a foreign owner for GrainCorp, said James Santo, who works in special situations sales at Aviate Global LLP in Sydney. An offer for GrainCorp could surpass Viterra Inc.'s A$1.6 billion purchase of ABB Grain Ltd. in 2009 as the nation's largest agriculture deal, according to data compiled by Bloomberg.
GrainCorp shares rose as much as 1.8 percent Friday, the most in more than two weeks. They were up 1.4 percent to A$9.15 at 11:30 a.m. in Sydney, giving the company a market value of A$2.1 billion.
Bargain Hunt
Any GrainCorp takeover would add to the $29.4 billion of agricultural deals announced globally this year, the Bloomberg-compiled data show, with buyers betting they can snare bargains after corn prices slumped 15 percent in the past three months and wheat prices fell 11 percent. Australia just suffered its third-driest September on record, and the strengthening El Nino weather pattern is increasing the chances of a drier-than-usual spring in the eastern part of the country.
The slump in commodity prices hasn't halted deals. Mitsubishi Corp. agreed in August to buy 20 percent of Singapore food trader Olam International Ltd. for S$1.53 billion ($1.1 billion), while heavily indebted Glencore Plc said last month it's considering selling a minority stake in its agriculture business.
ADM, the world's largest corn processor, said in August it was bullish on its agricultural services unit, which buys, stores and sells commodities. Buying GrainCorp would deliver the Chicago-based company control of 280 storage sites and seven of the 10 ports that ship grain in bulk from the east coast of Australia -- the world's third-biggest exporter.
In November 2013, the Australian government blocked ADM's offer for GrainCorp following opposition from farmers, saying a takeover of that "key Australian business" by an overseas party wouldn't be in the national interest. ADM kept its minority stake in GrainCorp after the deal was blocked, leading to speculation it will eventually come back.
A representative for GrainCorp declined to comment.
Foreign Takeovers
"We are focused on getting a return out of our investment," Jackie Anderson, a spokeswoman for ADM, said in an e-mailed statement. "Our near-term objective is to work together and grow the relationship to achieve returns on our 19.85 percent ownership."
Australia's new prime minister worked as a journalist and practiced law before running his own boutique advisory firm for a decade. Turnbull joined Goldman Sachs Group Inc., where he was a partner and Australia managing director, for a four-year stint starting in 1997 and was elected to parliament in 2004.
New Australian Treasurer Scott Morrison, whose position gives him the authority to block foreign takeovers, comes to the role after stints implementing difficult policies in immigration and social services. Australia recorded a record bounce in consumer sentiment a week after the new leadership took power, while business confidence recovered in September.
A spokesman for Morrison said he couldn't immediately comment.
Falling Currency
A potential deal has gotten cheaper for U.S.-based ADM, with the Aussie dollar dropping about 20 percent against the greenback since the rejection. It may have to at least match its previous offer of A$12.20 per share to get support from GrainCorp investors, given the Sydney-based company has a number of growth projects in malts and oils, according to Morgans Financial agriculture analyst Belinda Moore.
Buyers paid an average 32.6 percent premium in agricultural deals globally over the past five years, according to Bloomberg-compiled data. That would translate into an offer of A$11.96 per GrainCorp share based on Thursday's close.
"ADM effectively have a blocking stake, and they still believe that GrainCorp has great strategic value," Moore said by phone. "It's probably just a question of when."
Open Markets
Even after the recent stock-price increases, GrainCorp is still trading 18 percent below its level before the last offer was rejected. GrainCorp shares could fall if the drought in eastern Australia continues, potentially making a deal cheaper for ADM if it's patient, Aviate Global's Santo said.
Analysts have already cut expectations for GrainCorp's earnings before interest and taxes for the year through September 2016 to A$182 million, from an average forecast of A$209 million in May, data compiled by Bloomberg show.
ADM may want to wait until after the next federal election, which Turnbull can call as soon as August 2016, before coming back with another offer for GrainCorp, according to Morgans Financial's Moore.
"The environment for them to do a deal is much more favorable," Santo said. "But they may want to let the new government settle in for a bit before they test its commitment to open markets."
Before it's here, it's on the Bloomberg Terminal.
LEARN MORE