AB InBev Plans $55 Billion Bond Sale to Fund SABMiller Deal
by , , and
$55 billion sale would be biggest ever for corporate takeover

Brewer has lined up seven banks to arrange the facility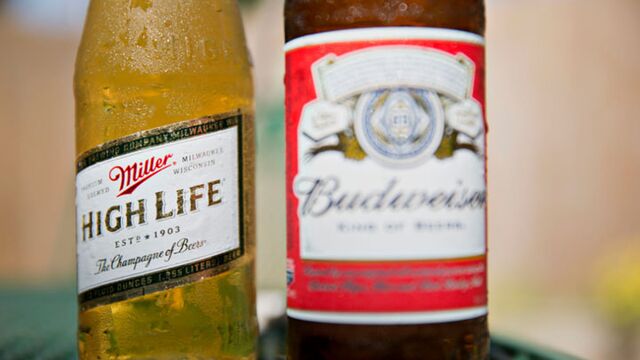 Anheuser-Busch InBev NV is planning to sell bonds worth as much as $55 billion to finance its $106 billion takeover of SABMiller Plc, setting a record for debt issuance to fund a corporate acquisition, according to people familiar with the matter.
The maker of Budweiser beer has lined up seven banks to arrange as much as $70 billion in financing for the deal, the people said, asking not to be identified as the information is private. The bonds will be issued in multiple currencies, and with several different maturities, they said.
The remaining $10 billion to $15 billion of financing is in the form of term loans, the people said. No formal mandates have been signed with the financing banks and arrangements may still change, they said.
A bond sale of this magnitude would be the largest ever for a corporate takeover, surpassing Verizon Communications Inc.'s $49 billion bond sale in 2013 to help fund the buyout of Vodafone Group Plc's stake in a wireless joint venture.

A sale would also fan a surge in investment-grade corporate bond issuance, which has jumped 21 percent worldwide this year, according to data compiled by Bloomberg. The increase, following 2014's record, has been fueled by companies locking in low borrowing costs and investors seeking higher yields amid near-zero interest rates.
"It will all come down to what price they can raise the capital at. That's the million-dollar question," said Simon Hales, an analyst at Barclays Plc. Bonds issued for the deal may have a coupon of about 4 percent, Ed Mundy, an analyst at Nomura, wrote in a note to investors on Monday.
Regulatory approvals for the deal could delay any bond sale for several months, according to a note from CreditSights analysts Simon Atkinson and Miguel Molina dated Oct. 13. The companies may also need to raise less financing if, as expected, they're required to sell assets as part of the process, they said.
AB InBev will need to divest more than $16 billion of assets to win approval, Wim Hoste of KBC Securities said this week. Candidates for divestment include AB InBev's 49 percent stake in a joint venture with China Resources Enterprise Ltd., and SABMiller's 58 percent stake in the Miller Coors joint venture in the U.S.
Net Debt
AB InBev lined up banks including Bank of America Corp. and Banco Santander SA to arrange financing for the deal, people familiar with the matter said last month. Borrowing to fund the takeover -- the biggest consumer deal ever -- may bring AB InBev's net debt to 4.5 times earnings before interest, taxes, depreciation and amortization, according to Trevor Stirling of Sanford C. Bernstein. It was at 2.5 at the end of the second quarter.

AB InBev agreed to pay 44 pounds a share in cash for a majority of SABMiller stock on Tuesday after weeks of back-and-forth haggling over price. A deal between the brewers would be the biggest globally this year, surpassing Royal Dutch Shell Plc's $70 billion takeover of BG Group Plc, announced in April, according to data compiled by Bloomberg.
Financing for the deal "is not going to be a problem," Felipe Dutra, AB InBev's chief financial officer, said on a conference call with investors last week. "As soon as practically possible, we should execute the bonds take-outs and get that behind us,"
A representative for AB InBev declined to comment.
Before it's here, it's on the Bloomberg Terminal.
LEARN MORE