A Dutch Design Studio's Smog-Eating Tower
An air purifier for the great outdoors.
By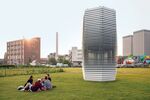 Innovator: Daan Roosegaarde
Age: 36
Owner of Rotterdam design firm Studio Roosegaarde, which has 10 designers and engineers
Form and function
The Smog Free Tower, which stands 23 feet tall, sucks in and cleans 1 million cubic feet of polluted air an hour, while using about as much electricity as a boiler.
Origin
Roosegaarde began working on outdoor air purification after a particularly smoggy 2013 trip to China.
1. Inhale
Air is sucked into the prototype tower, located in a Rotterdam park. An internal electrode puts out ions that impart a positive charge to fine dust particles.

2. Exhale
A negatively charged counter-electrode draws in the dust particles. The air up to 80 feet around the tower is, on average, 75 percent cleaner than in the rest of the city, Roosegaarde says.
Partners
Dutch manufacturer Environmental Nano Solutions Europe and researcher Bob Ursem helped develop the tower.
Funding
Roosegaarde says he's invested the cash equivalent of a high-end BMW to build the tower, along with about $130,000 from Kickstarter backers.
Next Steps
Roosegaarde says he's in talks with possible commercial partners, though he declined to name them. Jim Zhang, a professor of global and environmental health at Duke University, says the idea is novel and the principle sound, but that, aside from questions of cost, the tower could be impractical in less-than-ideal weather. "It will probably only work when the outdoor air is very steady," Zhang says. "If it's windy, it's going to be diluted very quickly."
Before it's here, it's on the Bloomberg Terminal.
LEARN MORE