Wholesale Prices in U.S. Decline by Most Since Start of Year
Victoria Stilwell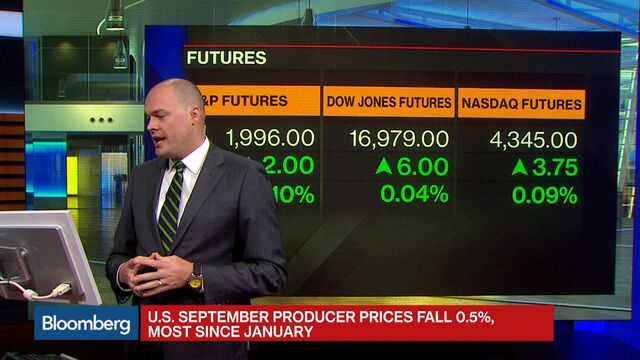 Wholesale prices in the U.S. declined in September by the most since the start of the year as costs fell for gasoline, food and brokerage services.
The 0.5 percent decrease in the producer-price index was the biggest since January and followed no change in August, Labor Department figures showed Wednesday. The median forecast of economists surveyed by Bloomberg called for a 0.2 percent drop. Costs were down 1.1 percent over the past 12 months.
Prices for wholesalers and households have been subdued as global demand wanes and puts pressure on commodities. That poses a challenge for Federal Reserve policy makers, who are looking for signs that inflation will move back toward their 2 percent target as they consider raising borrowing costs for the first time since 2006.
"The inflation backdrop remains very benign," said Thomas Costerg, a senior U.S. economist at Standard Chartered Bank in New York, who correctly forecast the decline in wholesale prices. "There are worries that inflation may not pick up that much in 2016, and this report goes that way."
Another report on Wednesday showed tepid consumer spending in September. Retail sales rose 0.1 percent after little change a month earlier, according to the Commerce Department. While purchases at auto dealers climbed last month, Americans pulled back at most other merchants.
Sales excluding vehicles fell 0.3 percent, the weakest showing since January.
Projections in the Bloomberg survey for producer prices ranged from a drop of 0.5 percent to a 0.2 percent gain.
Energy, Food
Energy expenses decreased 5.9 percent in September, the most since January, after falling 3.3 percent the month before. Food prices dropped 0.8 percent after a 0.3 percent gain. The costs of eggs slumped, while beef and veal prices plunged 7.9 percent, the most since January 2004.
Wholesale prices excluding these two components unexpectedly declined 0.3 percent. The median forecast in the Bloomberg survey called for a 0.1 percent gain. Those costs were up 0.8 percent from September 2014.
Goods prices, which have fallen for three straight months, slumped 1.2 percent in September. The costs of services dropped
0.4 percent, the most since February. More than a quarter of that decrease was due to slumping costs for securities brokerage, dealing and investment advice, the Labor Department said.
After eliminating food, energy and trade services to arrive at a reading that some economists prefer because it excludes one of the report's most volatile components, wholesale costs also decreased 0.3 percent in September. That was the biggest decline since records began in 2013.
Fed officials delayed raising rates in September amid global growth concerns and financial market volatility, while adding that inflation continues to run below their longer-run objective. Their next meeting takes place in two weeks.
Before it's here, it's on the Bloomberg Terminal.
LEARN MORE