What I Wear to Work: Alton Brown
The Food Network host dons very expensive blazers to cook on TV.
By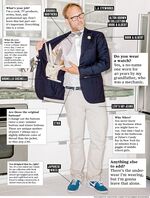 Alton Brown, 53, is creator of Alton Brown Live: Eat Your Science and host of Cutthroat Kitchen. He lives in Marietta, Ga.
Before it's here, it's on the Bloomberg Terminal.
LEARN MORE