What the Democratic Debate Means for Joe Biden
It was not his night, as Hillary Clinton denied him new opportunities to go after her on personal, economic, or foreign-policy weaknesses.
By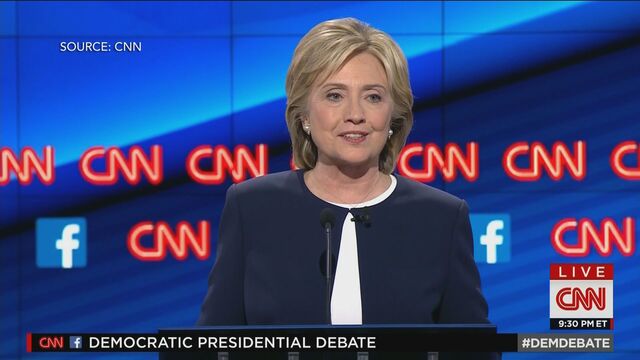 If Vice President Joe Biden was looking to the first Democratic presidential debate to fuel demand for him to jump in the race, Tuesday was not his night.
Biden's name didn't even come up during the two-hour debate that pitted front-runner Hillary Clinton against her main rival, Bernie Sanders, and three other candidates, Martin O'Malley, Jim Webb, and Lincoln Chafee. While President Barack Obama's policies and legacies were discussed, neither Biden's record nor his absence from the stage were noted by his rivals.
"I saw little tonight that would push him towards a candidacy," said David Axelrod, Obama's former political strategist and senior adviser and the director of the University of Chicago Institute of Politics. Clinton had "a strong night, and Bernie spoke very well to his base," Axelrod said. "No more oxygen was inserted into the tank for others."
Clinton, likely the biggest impediment to a Biden candidacy because of her lead in fundraising and polls and their shared appeal to establishment Democrats, dominated the night with a strong performance. She answered questions about a controversy involving her use of private e-mail servers while secretary of state without stumbling, denying Biden new opportunities to go after her on personal, economic, or foreign-policy weaknesses. Meanwhile, Sanders may have energized his base with his promises to lead a political revolution against Wall Street and the establishment.
Biden's social media mentions paled in comparison to Sanders and Clinton at the end of debate, according to Topsy, which tracks social media traffic. At 11:30 p.m. in New York, there were about 11,000 tweets mentioning his name during the previous hour. Meanwhile, Sanders had about 85,000 mentions and Clinton had about 73,000 during that time span. Facebook, which cosponsored the debate with CNN, ranked the degree to which the candidates on the stage were discussed among Facebook users during the debate (Sanders and Clinton ranked Nos. 1 and 2, respectively), but didn't track Biden mentions in real time. 
Steve Schale, a Florida Democratic strategist advising Draft Biden, an outside group encouraging the vice president to run, continues to argue for a Biden bid. "Clinton had a good night, but it sounded like the equivalent of when Florida State plays Central Michigan," he said. "She's head and shoulders over the rest of the field, but frankly I think that makes an argument for Joe. There's definitely room for Joe Biden on that stage. Nobody stepped up to be the alternative." Sanders "had to pass the test of looking presidential and I don't think he did," Schale continued, adding that Biden is "a guy who is universally respected" and "having his voice on that stage will be healthy" if he gets into the race before the next debate in mid-November. 
But Representative Judy Chu of California, who backs Clinton, told reporters after the debate that Biden would be "starting from behind not even having attended this debate."
The vice president, 72, is expected to announce his plans in the coming weeks. He extended his own earlier timeline of September as he and his family continued to work through their grief after the death of his son Beau in May from brain cancer. If Biden does run, many Democratic analysts say he must announce soon. Filing deadlines to appear on state primary ballots begin in early November, and caucuses and primaries begin in February. He would need weeks if not months to raise money and establish organizations in individual states.
And a late start makes it harder to assemble a team. A friend and former chief of staff of Biden's, Ron Klain, helped Clinton prepare for her debate appearance and was with her when a celebratory Clinton addressed supporters afterwards.
Still, Biden has taken steps seen as moving him closer to a run, including deliberations with family and friends, some conversations with past and prospective donors, and public and national television appearances in which he has discussed his thought process in trying to determine his commitment and emotional readiness to run. Biden unsuccessfully sought the 1988 and 2008 Democratic nominations before joining Obama's 2008 ticket.
Before the debate, a surprise Biden appearance had always been a far-fetched but tantalizing possibility: Would he hop aboard Air Force Two for a last-minute flight to Vegas and dramatically announce his 2016 plans in time to take part? CNN had let it be known it had a Biden podium in reserve just in case. Instead, the vice president cooked up his own special night at his official residence at the Naval Observatory in Washington: an unusually timed Tuesday night high-school reunion, a barbecue poolside, for Biden's classmates from the Archmere Academy in Claymont, Delaware, followed by plans to watch the debate from home.
The beauty of the reunion was that it wouldn't show Biden's hand, no matter how well Clinton did or what analysts said that portended for Biden's path, and it would save face, signalling he is the sort of politician who values longevity and loyalty over the chase.
Biden, Class of 1961, was expecting fewer than 50 reunion guests, though aides wouldn't say how long the reunion had been on Biden's calendar, or how many classmates were staying for debate watch, or which of Biden's family, political advisers or friends were watching the debate with him—all details that could be parsed for clues.
It may be worth remembering that Biden, who's wanted to be president for decades, as a child also coveted admission to Archmere, the private, Catholic school whose alums he entertained during the debate. In his memoir, Promises to Keep, he wrote about participating in a work-study program for students whose families couldn't afford the tuition and called the school "the object of my deepest desire, my Oz."
"I didn't ever think of Archmere as a path to greater glory," Biden recalled. "When I was ten, getting to Archmere seemed enough. I'd sit and stare out of my bedroom window and dream of the day I would walk through the front doors and take my spot in that seat of learning. I'd dream of the day I would score the touchdown or hit the game-winning home run."
(Contributing: Tim Higgins, Sahil Kapur, and Jennifer Epstein)