Cameron Vows to Put EU Demands in Writing as Pressure Builds
by
Prime minister plans to send details of wish list in November

Other EU nations warn Cameron is falling behind schedule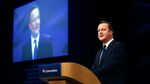 David Cameron responded to growing pressure for clarity about his renegotiation of Britain's relationship with the European Union, announcing he will set out his demands in a letter within weeks.
The prime minister told European leaders in Brussels Thursday that he will send EU President Donald Tusk details of the changes he wants and the issues to be addressed, a British official said. The letter, which may not be made public, will probably be sent in early November and form the basis of a "fuller discussion" the following month.
The pledge came amid signs of frustration at Cameron's reluctance to spell out exactly what concessions he hopes to achieve before putting Britain's membership of the 28-nation EU to a referendum by the end of 2017. Once Cameron sends the letter, the "real negotiations can start," Tusk said in a Twitter posting welcoming the commitment.
"This process is well under way and making good progress," Cameron told reporters in Brussels at the start of summit. "I'm confident we can get a good deal for Britain, we can fix those things that need to be fixed."
Having met all his fellow EU leaders over the summer, Cameron is trying to build momentum ahead of the year-end summit. The risk is that if he is too public about his wish list, then every goal he fails to achieve will be used against him by those who want Britain to leave the EU in the popular vote that follows the renegotiation.
'Common Positions'
"It's important to know what he wants so we can discuss about maybe common positions," Luxembourg Prime Minister Xavier Bettel said in an interview in Brussels before the summit. "It's important to have a situation where we both can live together and we are not in a procedure of divorce."
Cameron had "useful and constructive" talks with European Commission President Jean-Claude Juncker over lunch in Brussels, according to the British official. He also met with Germany's Angela Merkel and Francois Hollande of France before joining other leaders for a brief exchange on the U.K. issue.
Cameron was pressed for more clarity as diplomats from other nations said he risks falling months behind his timetable as the bloc awaits more-specific U.K. proposals.
The U.K.'s failure to nail down its demands makes some European governments doubt that EU leaders can discuss the matter at their December summit and may let it slip to March, two diplomats from separate EU countries said on condition of anonymity because the negotiations are private. Cameron said talks are going well and the U.K. will now step up the pace.
'Takes Two'
Other EU governments agree that the longer the talks go on, the more likely the U.K. will vote to leave, one of the diplomats said.
"I can't say huge progress has been achieved. I can't say nothing has been achieved," Juncker told lawmakers in the European Parliament in Brussels on Wednesday. "But to tango it takes two."
Cameron held talks on the renegotiation over dinner at his country retreat last week with Merkel, at which the German chancellor "reiterated that she wanted Britain to remain in the EU," Cameron's office said in a statement.
The British government has signaled it wants assurances that the influence of non-euro countries won't be weakened and more powers to withhold welfare payments from people arriving in the U.K. from elsewhere in the EU.
"The negotiations will be tough, but we will secure a deal," British Foreign Secretary Philip Hammond told the Conservative Party's annual conference this month.
Before it's here, it's on the Bloomberg Terminal.
LEARN MORE