U.K. Unemployment Unexpectedly Drops to Least Since 2008
by
Earnings growth slows to 2.8%, still outpaces inflation

Strongest growth in real incomes since before financial crisis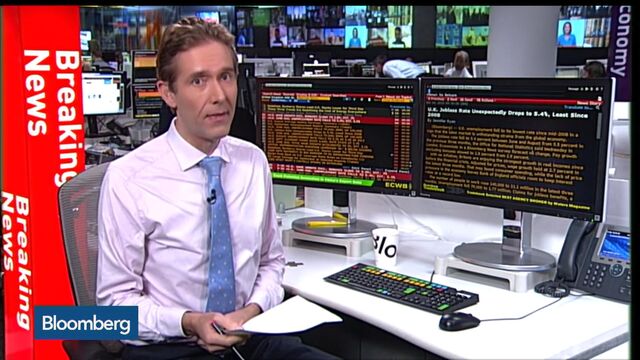 U.K. unemployment fell to its lowest rate since mid-2008 in a sign that the labor market is withstanding strains from the global economy.
The jobless rate declined to 5.4 percent between June and August from 5.5 percent in the previous three months, the Office for National Statistics said Wednesday in London. Economists in a Bloomberg News survey forecast no change. Pay growth excluding bonuses slowed to 2.8 percent from 2.9 percent.
With no inflation, Britons are enjoying the strongest growth in real incomes since before the financial crisis. Adjusted for prices, wage growth held at 2.7 percent in the latest three months. That may boost consumer spending, while the lack of price pressure in the economy leaves Bank of England officials room to keep interest rates at a record low.
"Today's labor force survey signals that there is very little slack remaining in the jobs market," said Dean Turner, an economist at UBS Wealth Management. "Rising wage pressures will likely prompt the Bank of England to hike interest rates soon, most likely in the first quarter of next year. However, tighter monetary policy is unlikely to derail the U.K. from its current growth trajectory."
The pound stayed higher against the dollar after the data were published, and traded at $1.5351 at 10:25 a.m. London time, up 0.7 percent from Tuesday.
The number of people in work rose 140,000 to 31.1 million in the latest three months. Unemployment fell 79,000 to 1.77 million and single-month figures show the jobless rate in August fell to 5.3 percent from 5.4 percent in July. Claims for jobless benefits, a narrower measure of unemployment, rose for a second month in September, climbing 4,600 from August. The rate held at 2.3 percent.
Pay growth including bonuses rose to 3 percent from 2.9 percent.
An unexpected drop in inflation below zero in September has raised the prospect of a further increase in living standards. The BOE expects price growth to stay below 1 percent until the spring of 2016, far short of its 2 percent target.
A separate report published by the BOE showed that weak consumer-price inflation is reducing the pressure on some employers to raise pay growth. Nevertheless, employment intentions indicated continued growth in the workforce and recruitment difficulties were reported to be contributing to rising wage pressure in the service sector.
"We've got the highest rate of employment in our history, and real terms pay rising strongly," said Chancellor of the Exchequer George Osborne. "But with recent data showing our trading partners' growth is slowing, we must not be complacent. All of this progress will be at risk unless we carry on with our plan to build a resilient economy."
Before it's here, it's on the Bloomberg Terminal.
LEARN MORE