Traders Bet AB InBev Will Cut Dividend to Pay Off SABMiller Deal
by
Futures are pricing in a 33% cut to payout next month

InBev merger with Anheuser Busch triggered dividend cut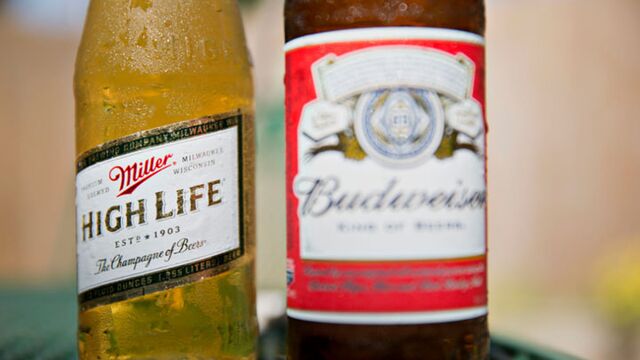 Now that Anheuser-Busch InBev NV's takeover of SABMiller Plc is officially in the works, speculation has shifted to the fate of the Budweiser maker's dividend.
Futures wagering on the Belgium brewer's expected payouts have been falling along with the rising likelihood of a deal agreement -- down 18 percent since SABMiller said last month it was open to a potential offer. Contracts expiring in December now reflect that the November payout will be only 67 euro cents, a third lower than last year's payment.

"Since speculation over the SABMiller deal first came out last month, the dividend futures have fallen given the level of debt AB InBev was expected to be taking on," said Antoine Iskandar, a fund manager at Paris-based Melanion Capital SAS, which specializes in dividend investing. "The market is pricing a dividend reduction that could start as soon as next month."
AB InBev's agreement to pay about $106 billion for SABMiller will be funded in part by up to $70 billion in financing the company was said to line up last month. Speculation is mounting that slashing shareholder payouts will be one other way to manage such a debt load. There is precedent: The merger of InBev and Anheuser Busch led to an 89 percent dividend cut in 2009.
AB InBev's dividend matters to investors. At 3 percent, the payout yield is well above the average rate of 2.5 percent for food and beverage companies in the Stoxx Europe 600 Index. The beermaker's five-year total return of 152 percent slides to 124 percent without the payout.
Debt Burden
Financing the deal may bring AB InBev's net debt to 4.5 times earnings before interest, taxes, depreciation and amortization, according to Trevor Stirling of Sanford C. Bernstein. It was at 2.5 at the end of the second quarter.
"There certainly is a risk of a dividend cut," said Stirling, a London-based analyst. "It doesn't surprise me the contracts are pricing in one."
The December futures now reflect a full-year dividend of 2.67 euros, before taxes. Since the company paid out 2 euros in May, that would leave 67 euro cents for next month's dividend, lower than the 1-euro payment made in November 2014. By comparison, contracts speculating on payouts by members of the benchmark Euro Stoxx 50 Index haven't changed much over the past month.
Karen Couck, a media representative at AB InBev, said the company couldn't comment on potential dividend changes at present.
Dividend futures traded on Eurex are designed to track the accumulated payouts from companies during a year. Investors may purchase the contracts to speculate on the value of future payments.
Before it's here, it's on the Bloomberg Terminal.
LEARN MORE