The Worst Major U.S. Bank Stock of 2015 Is Today's Only Gainer
by and
Bank of America proves it can make good on cost-cut promises

Expense reductions beat cuts at JPMorgan and Wells Fargo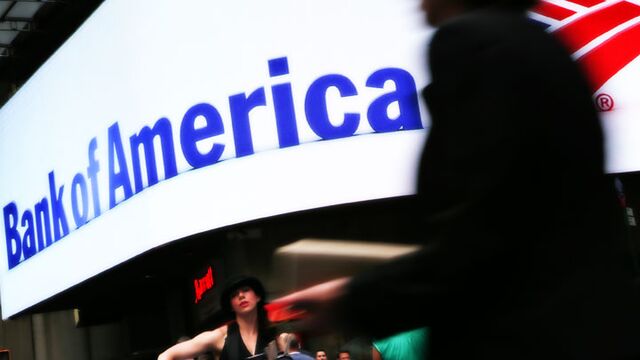 Bank of America Corp. showed it could follow through on its plans to cut costs.
While investors punished JPMorgan Chase & Co. for its gloomy outlook and didn't reward Wells Fargo & Co. for one-time gains, Bank of America got credit for meeting many analysts' expectations for expense reductions. Shares of the Charlotte, North Carolina-based firm rose 0.8 percent to $15.64 at 6:15 p.m., the only gain in the 24-company KBW Bank Index. For the year, they're still down 13 percent, the biggest decline among the top five banks.
"I'm glad to see them hitting their targets and maybe even exceeding them a little bit," Jeff Harte, an analyst covering large banks at Sandler O'Neill & Partners LP, said in a phone interview. "They're making progress on pretty much everything they said they were going to do."

Bank of America said expenses dropped 31 percent to $13.8 billion on lower litigation costs. Excluding that, expenses still declined 4 percent on fewer delinquent mortgage borrowers, beating cost cuts at JPMorgan and Wells Fargo.
Beset by declines in bond-trading revenue and low interest rates that weigh on lending profit, Wall Street firms are being rewarded for finding ways to trim expenses. Doing so is the most obvious way to wait out the Federal Reserve as it decides when to raise interest rates, analysts including Betsy Graseck of Morgan Stanley have said. Bank of America is still shaking off costs related to the 2008 acquisition of Countrywide Financial Corp. Adding to the positive sentiment toward Bank of America were trading results, which showed smaller declines that some analysts predicted.
Troubled Mortgages
"We still think we have room to take down expenses," Chief Financial Officer Paul Donofrio told reporters Wednesday. The firm's $900 million in third-quarter costs from its Legacy Assets & Servicing unit, which deals with troubled and delinquent mortgages, will drop to $800 million in the fourth quarter and eventually settle at $500 million, Donofrio said.
At JPMorgan, expenses fell 2.7 percent to $15.4 billion, but that was eclipsed by a 6.4 percent decline in revenue. Equities trading, commercial banking and asset management disappointed, Susan Katzke of Credit Suisse Group AG said Wednesday in a research note. Wells Fargo's expenses rose 1.2 percent to $12.4 billion.
Bank of America's equities-trading revenue climbed 12 percent, helping to offset an 11 percent drop in fixed-income revenue. JPMorgan's trading results matched many analysts' estimates.
High Expectations
"Expectations were substantially higher for JPMorgan than BofA, and so BofA was able to meet the current expectations while JPMorgan fell a little bit short," Brennan Hawken, a UBS Group AG analyst, said in an interview.
Bank of America's efficiency ratio for the first nine months of this year, a measure of costs as a percentage of revenue, improved three percentage points to 66 percent from the first three quarters of 2014, excluding legal costs. JPMorgan and Wells Fargo saw that measure stay roughly flat in that time.
"Revenue didn't necessarily miss expectations and they showed good expense discipline" at Bank of America, Hawken said. "People thought, 'All right, this isn't so bad."'
Before it's here, it's on the Bloomberg Terminal.
LEARN MORE