Stats
The Democratic Debate Premiere By the Numbers
The live-tweeting Donald Trump racked up more new Twitter followers than all five Democratic debaters combined.
By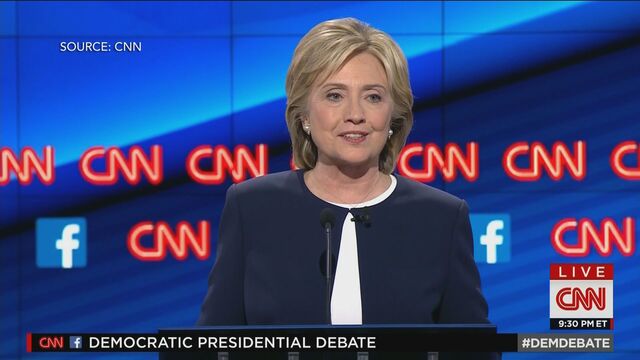 With an indecisive Vice President Joe Biden still on the sidelines, Tuesday night's CNN debate, the first for the much smaller Democratic presidential field, turned out to be a largely two-candidate affair.
Former Secretary of State Hillary Clinton and Vermont Senator Bernie Sanders together accounted for nearly 60 percent of the moderator questions and speaking time, and were far more aggressive than their on-stage counterparts in attacking Republicans and Wall Street, according to an analysis of CNN rush transcripts conducted by Bloomberg Politics in partnership with Adam Tiouririne (@Tiouririne) of Logos Consulting Group. He advises senior business executives on high-stakes communication, grounded in his research about how leaders perform at their most important—and most widely broadcast—moments.
Here's what the data says.
Running against Wall Street and the NRA
Despite attempts by debate moderator Anderson Cooper to stoke inter-candidate sniping—successfully with gun control, less so with other issues—the Democrats largely played nice, with Sanders even coming to Clinton's defense when asked about her use of a private e-mail server. Instead, they focused their anger on several long-standing Democratic Party bogeymen: Sanders went after Wall Street and the so-called billionaire class, while former Maryland Governor Martin O'Malley targeted the National Rifle Association. Clinton, meanwhile, showed how, despite her falling poll numbers, she's still got her eye on the general election, mentioning the Republicans 16 times.

Clinton and Sanders steal the show
Clinton spoke for more than 30 minutes, according to estimates of air time published by NPR, compared to less than 28 minutes for Sanders and as little as nine minutes for former Rhode Island Governor Lincoln Chafee. Clinton received 30 questions, slightly ahead of Sanders and more than twice as many as were directed at O'Malley, who needed to make a splash in order to help pull his poll numbers out of the single digits. To make up for this, O'Malley successfully interjected himself four times during the debate. Chafee and former Virginia Senator Jim Webb were often lost off screen.

The social media scene
Self-styled "democratic socialist" Sanders handily won the night on Twitter, adding nearly 50,000 followers by midnight ET, and was mentioned in 41 percent of #DemDebate-related conversations, according to the company. (Sanders reportedly paid six-figures to buy the trending topic #DebatewithBernie.) Clinton was in close second, mentioned in 39 percent of such Twitter conversations, and narrowly snagged a Facebook victory, adding around 6,500 likes to her verified page compared to Sanders's 4,500. She also saw her odds of winning the Democratic nomination rise on prediction market Pivit, where she went from 65 percent at the start of the debate to 71 percent before midnight. Competitor PredictIt put her odds at 66 percent by midnight, up from 60 percent the day before.
Proportionally, the Democratic candidate whose social media capital rose the most was Webb, who saw a 23 percent rise in his Twitter followers in the four hours after the debate kicked off and an 8 percent rise in the number of Facebook likes.
It is worth noting, however, that Republican candidate billionaire Donald Trump racked up an impressive 95,000-plus new Twitter followers while snarkily live-tweeting the debate, more than all five Democratic debaters combined. 

Issue by issue
Back in 1992, Clinton became first lady after her husband won the presidency with the famous mantra "It's the economy, stupid." Sure enough, jobs and the economy were a top issue discussed Tuesday night. Guns and college affordability-related keywords were also popular, mentioned at least 25 times each, while "climate change" was cited fewer times than the Syrian crisis.