Running on Mars
Can a "gravity-reducing" treadmill get you going again?
By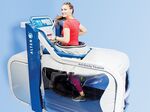 If you've ever been sidelined with a bum knee, you're in good company. As each generation takes up running—for sport, to shed a few pounds, or as after-work therapy—knee injuries and procedures to deal with them continue to multiply. In 2013, 719,000 Americans had a knee replaced, according to the Centers for Disease Control and Prevention, up from half that number a decade before. This presents an opportunity for AlterG, an exercise equipment maker in Fremont, Calif., that licenses technology from NASA. Its hulking treadmills have been shown to speed recovery from running injuries—shin splints, say, or orthoscopic surgery—and stave off symptoms of diseases such as multiple sclerosis. The devices, at $36,900 to $80,000, lie outside most home-gym budgets, so they're becoming an amenity at physical-therapy clinics and boutique gyms. "Its greatest use is rehabilitation," says Gabriel Griego, AlterG's vice president for marketing. "But we're hearing from serious athletes, too, who use it to extend their weekly mileage with less wear and tear on the joints."
The Tech
NASA developed a way to keep astronauts fit in low-gravity situations such as at the International Space Station. AlterG treadmills flip that concept around: They use air pressure to lift a runner, reducing her "weight" by as much as 80 percent. The NBA's Washington Wizards bought the first one in 2007; AlterG has since streamlined the design and made it more reliable.
The Test
"Once you're in there, you can't fall," says Barry Heyden, former strength coach for the New York Mets, as he zips me into an AlterG F320. Before I climbed in, Heyden had me shimmy into Spandex bike shorts and then pull on a neoprene skirt—like a kayak's—with a zipper edge. He notes that along with people like me, recovering from knee surgery, the AlterG is especially helpful for heavier runners. He has me start walking, then dials up the "differential air pressure." I don't float like Neil Armstrong, but I can land on my knee without agony—a minor miracle. It gets sweaty under there, and one's dignity isn't spared: I look like I'm auditioning to be a centaur in Clash of the Titans. But I'm soon jogging for the first time in months.
The Takeaway
I probably overdid it: My knee did swell over the next couple of days. But for anyone kept from the trail or track they use to clear their mind, it's worth the price for a session you can book online at one of 1,200 U.S. locations that have one. (Some PT clinics incorporate the AlterG into their program fee.) It might seem intense for regular sessions—unless, of course, you can't run with a normal gait. In that case, it's magic.
Before it's here, it's on the Bloomberg Terminal.
LEARN MORE