Take Control on Refugees, Italy's Renzi Tells European Leaders
by
Premier makes appeal on eve of EU summit aimed at united front

EU partners changed position `on basis of individual events'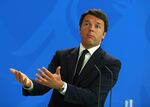 Italian Prime Minister Matteo Renzi urged Europe to take control of the immigration crisis instead of shifting position again and again in reaction to headline-grabbing events.
Addressing the parliament in Rome before Thursday's European Union summit, Renzi told lawmakers that Italy's demands for support have been vindicated as the biggest influx of refugees since World War II had become a challenge to the entire EU.
"On the issue of migration, Italy was right, and the rest of Europe was not," said Renzi, whose country along with Greece has borne the brunt of arrivals from across the Mediterranean. "From the first day, we have said it was time to change EU policy on these issues" while many friends and allies "changed position on the basis of individual events" instead of adopting a long-term strategy.
EU leaders are struggling to present a united front to deal with the wave of refugees that has brought the turmoil of the Middle East and Africa into the heart of Europe. Divisions between member states risk weakening the bloc as it seeks to forge a partnership with Turkey to deal with the displaced, and to keep up pressure on Russia over Syria and Ukraine. 

EU President Donald Tusk said this month that for the bloc, refugees were individuals "who expect our help." He added: "There are forces around us however, for whom the wave of refugees is just dirty business or a political bargaining chip. We are slowly becoming witnesses to the birth of a new form of political pressure, and some even call it a kind of a new hybrid war."
Renzi on Wednesday focused his criticism on EU members' reluctance to overhaul the so-called Dublin system, which stipulates that asylum-seekers must make their request for refuge in the country of arrival.
"Today we see after six months that a simple principle which was always denied is now authoritatively supported by Francois Hollande and Angela Merkel at the European Parliament: the Dublin agreement is dead," Renzi said, referring to the French president and German chancellor. "It isn't technically, but it is politically."
The EU's border-management agency Frontex said on Tuesday that the number of migrants who arrived in the bloc in the first nine months of 2015 reached more than 710,000, compared with 282,000 during the whole of last year. Merkel's government is expecting at least 800,000 to reach Germany this year.
Before it's here, it's on the Bloomberg Terminal.
LEARN MORE