Strategist: We've Hit 'Peak Negativity' in the Energy Sector
Welcome to the new "pain trade."
by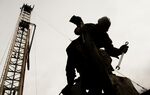 Earlier this year, Bank of Montreal Chief Investment Strategist Brian Belski called energy stocks a value trap.
He has become more constructive, upgrading the sector to market weight, from underweight.
A confluence of factors influenced the strategist's decision to "neutralize" his portfolio position for both U.S. and Canadian energy stocks. The first is that the sector has reached what he called "peak negativity," underperforming the Standard & Poor's 500-stock index by the most since 1986, when the last supply side-driven crash in oil prices occurred.
Second, a prolonged period of low oil prices is now baked into analysts' earnings expectations, although some Canadian analysts will probably have to ratchet down their estimates even farther.
"Earnings per share revisions are one of our most trusted contrarian indicators and the fact that they have hit extreme negative levels is encouraging to us for sector performance prospects," he wrote.
"Energy sector growth expectations in Canada have come down significantly, but still remain too optimistic given the oil price outlook and especially when compared to estimates for the U.S.," he added.

Finally, fund managers are underweight in energy holdings, in aggregate. In order to avoid missing a relief rally in the sector that would cause them to underperform their benchmark, they will be inspired to add to their energy holdings, Belski said.
Still, the strategist is far from a full-fledged bull, thanks to what he deems poor fundamentals and a difficult operating environment.
"Structural headwinds in the energy sector remain the main obstacle to any sustained outperformance," he wrote, referring to strong U.S. production and flagging growth from emerging markets. "Despite the significant deterioration in energy performance, valuation remains significantly above average."

While Belski 's not pounding the table on energy stocks, this upgrade represents a noteworthy evolution in the thinking of a strategist who cautioned investors away from the sector throughout the downturn in prices.
In December, he noted that his clients were consumed with picking the bottom in energy, and he cautioned against holding on to the previous cycle's winners. Two months later, he quipped that the short period of crumbling crude prices would not "cure a decade-long notion of oil and energy being the place to be."
But the "pain trade," Belski now says, is for energy stocks to move higher.
Before it's here, it's on the Bloomberg Terminal.
LEARN MORE