Staples Said to Explore Asset Sales to Win Antitrust Review
by and
Divestitures may include Office Max and distribution centers

FTC looking at impact on corporate accounts ahead of decision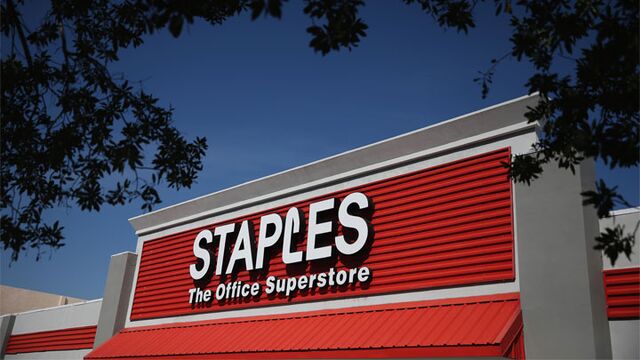 Staples Inc. is exploring the sale of assets to help resolve U.S. antitrust officials' concerns about its planned takeover of Office Depot Inc., according to a person familiar with the matter.
Various divestiture possibilities are under consideration, said the person, who asked not to be identified because the deliberations are private. Staples will only proceed if it sees asset sales as necessary to win clearance for the merger, the person added. The move comes as the antitrust review, which has dragged on for about eight months, enters its final stages amid talk that the agency could file a lawsuit seeking to block the tie-up.
The U.S. Federal Trade Commission is conducting a thorough investigation of the deal, and lawyers representing corporate customers who have been questioned say the agency could try to block the combination of the No. 1 and No. 2 players in the office supply market. The FTC has zeroed in on whether the creation of just one national retailer of office supplies would harm competition and raise prices for large corporate customers who buy under contract.
Staples rose 4.3 percent to close at $12.55 in New York. Office Depot, meanwhile, jumped 7.5 percent to $7.
The FTC, which hasn't announced a decision about the deal, could clear it without demanding conditions, file a lawsuit seeking to block the merger, or reach a settlement that includes asset sales to another supplier or corporation.
"It looks to us like the deal will go through with some concessions," said Oliver Wintermantel at New York-based Evercore ISI. "Staples may need to get rid of Office Max or close distribution centers."
Kirk Saville, a spokesman for Framingham, Massachusetts-based Staples, and Betsy Lordan, an FTC spokeswoman, declined to comment.
Extend Review
Staples and Office Depot said Oct. 12 that they reached an agreement with the FTC to extend the commission's review of the takeover to Dec. 8, saying they were working "cooperatively" with the agency, a sign negotiations may be progressing.
In addition to the U.S. investigation, Staples is contending with an in-depth review from antitrust officials in the European Union, which could also require divestitures, primarily in Scandinavian countries, according to Jennifer Rie, an analyst at Bloomberg Intelligence.
"The FTC is not worried about the individual who goes to buy paper," Rie said, noting that there is plenty of competition in the retail market from companies including Target Corp. and Wal-Mart Stores Inc.
A major question is whether Amazon.com Inc. is considered a competitor, especially as it expands its business-to-business program, Rie said.
"In my mind, what makes this deal go through is Amazon. Without that threat, Staples would need a large divestiture," Rie said.
Before it's here, it's on the Bloomberg Terminal.
LEARN MORE