Singapore Eases Policy as Economy Narrowly Avoids Recession
by and
Local currency gains against U.S. dollar after decision

Services supported growth while manufacturing shrank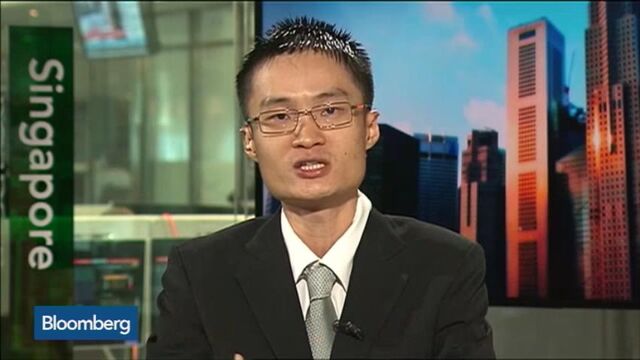 Singapore's central bank eased monetary policy for the second time this year as the economy narrowly avoided a technical recession, saying weakening prospects for global growth will pose "headwinds" in the coming months.
The Monetary Authority of Singapore, which uses the currency rather than interest rates as its main policy tool, said Wednesday it will reduce "slightly" the pace of appreciation in the local dollar versus those of its trading partners. Gross domestic product unexpectedly rose an annualized 0.1 percent in the three months through September from the previous quarter, when it shrank a revised 2.5 percent, the trade ministry said in a separate statement.
"The Singapore economy is projected to expand at a modest pace in 2015 and 2016, with growth slightly weaker than earlier envisaged," the central bank said. "The subdued global growth will exert a drag on the external-oriented sectors in Singapore in the quarters ahead."
The export-dependent island nation is vulnerable to swings in global trade demand, and its performance has reflected the regional fallout from China's economic deceleration in recent quarters. Prime Minister Lee Hsien Loong is seeking new sources of growth for the city state through a 10-year restructuring plan that includes reducing firms' reliance on cheap foreign labor and boosting investment in research and development.
'Token Move'
Singapore's dollar gained 0.6 percent to S$1.3940 against the U.S. currency as of 11:30 a.m. local time, after reaching S$1.3908, the strongest level since Sept. 18. The GDP report was better than expected -- the median of 16 estimates in a Bloomberg survey was for a 0.1 percent contraction, with only four forecasting an expansion.
The policy easing was "much less" than what the market was hoping for, said Wai Ho Leong, a Singapore-based economist at Barclays Plc. The MAS left the width and center of the policy band unchanged. Sixteen of 25 economists surveyed by Bloomberg predicted it would boost stimulus, while the remainder predicted no move.
"It would suggest a very token move to signal that they're providing some support," Leong said. The economy's "weakness is narrowly centered around manufacturing. Services, if you look at labor demand, it's still very tight," he said.
Singapore is turning to its position as an Asian financial hub to bolster services exports as overseas orders for its goods falters. Services as a share of the island's trade is set to increase with a rising middle class in the region boosting demand and a planned regional economic community set to lower barriers to trade, the government said earlier this year.
Disinflation Pressure
Singapore's consumer prices fell for a 10th straight month in August while core inflation, which excludes the cost of transport and accommodation, slowed to 0.2 percent. The disinflation had added to pressure on the central bank to ease.
Core inflation is forecast to rise gradually over the course of 2016 toward its historical average of close to 2 percent, the MAS said in its statement today.
"It's a very subtle move," said Nizam Idris, head of currencies and fixed-income strategy at Macquarie Bank Ltd. in Singapore. "The market was definitely expecting a slightly more aggressive move than this." Traders are likely to reduce bets for a weaker Singapore dollar in the short term, he said.
Today's advance GDP estimates are computed largely from figures in the first two months of the quarter and may be revised.
The breakdown for Singapore's 3Q GDP
Manufacturing fell an annualized 3.6 percent from the previous three months
Construction contracted 0.8 percent
Services gained 0.8 percent


GDP rose 1.4 percent in the third quarter from a year earlier, after growing a revised 2 percent in the previous three months, today's data showed. The median estimate in a Bloomberg survey was 1.3 percent.
"The domestic-oriented sectors should expand at a moderate pace, underpinned by sustained demand for healthcare and education services, as well as public infrastructure spending," the MAS said. "GDP growth in Singapore is likely to come in at around 2–2.5 percent in 2015 as a whole, with risks tilted towards the downside."
Before it's here, it's on the Bloomberg Terminal.
LEARN MORE