Netflix's Oscar Bait
With Beasts of No Nation, the streaming service comes after the cineplex.
By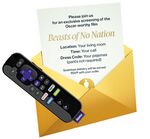 The film Beasts of No Nation opens on a group of young African refugees playing with an old, disemboweled television set. The camera peers through the broken screen as the kids start putting on a show they call "Imagination TV." They act out kung fu battles, dance scenes, and slapstick sequences. Considering the film's controversial release by Netflix as Oscar bait, it reads as a metaphor: Here's a ragtag crew determined to tear apart old TV and build something new.
When Netflix bought Beasts of No Nation for $12 million last July, it rocked Hollywood. The brutal drama about child soldiers in an unnamed West African country was directed by one of today's hottest young directors, Cary Fukunaga (True Detective, Jane Eyre), and co-stars one of Hollywood's hottest actors, Idris Elba (The Wire, Thor, and a million James Bond rumors). But if Netflix's purchase was a surprise, its audacious distribution strategy was shocking: On Oct. 16, Beasts of No Nation will open in about 30 theaters and be simultaneously released to the company's 65 million subscribers.
For the streaming service, Beasts of No Nation is a chance to expand into high-class films. The costs of acquiring preproduced content are rising sharply—because of competition, mostly—so Netflix will budget $500 million for such projects next year. Alreadyit's outbid establishment rivals for new TV shows and developed Emmy-winning series such as House of Cards and Orange Is the New Black. Later this fall, it will release The Ridiculous 6, the first film in a four-picture deal with Adam Sandler. Next year the brand will release War Machine, starring Brad Pitt.
Beasts is Netflix's biggest bid for an Academy Award, but it's not the company's first. For the 2014 prizes, Netflix aggressively promoted Jehane Noujaim's Egyptian revolution documentary The Square, which earned three Emmys and an Oscar nomination. This year, Netflix scored its second Oscar nomination for Virunga, a documentary about Congolese park rangers protecting gorillas. Those releases were bold yet uncontroversial—Netflix's marketing muscle exposed small, relevant films to a huge audience.

Beasts of No Nation is a harrowing journey into a cruel world—and it's a leap forward for the talented Fukunaga, who uses his brash style to tell an important story at a time when more than a quarter-million children have been forced into battle from Syria to Sudan. Like 2013's best picture winner, 12 Years a Slave, the film is strikingly rendered, technically dazzling, and often gruesomely violent. It's anchored by powerful, awards-worthy performances from Elba and the film's true lead, Abraham Attah, an inexperienced 14-year-old Ghanaian discovered on a school soccer field.
But this Oscar race is particularly crowded, and awards-season politics are often inscrutable. Theater conglomerates, which have some pull with voters, are lobbying against Netflix for obvious reasons. "I'm still not sure Beasts of No Nation is a player, even though it will make my top 10," says longtime Oscar handicapper Gregory Ellwood. "Idris, hands down, has the best shot as supporting actor."
The distributor is following a traditional Oscar playbook: Netflix hired Strategy PR, led by Miramax veteran Cynthia Swartz, to direct its awards-season campaign. Peggy Siegal, an influential movie marketer, is producing tastemaker screenings with celebrity hosts including Christiane Amanpour and Sting. One of the Oscars' open secrets is that many voters see films on DVD screeners anyway, and Beasts of No Nation is even easier to watch at home. But producers have still courted the international film community by rolling it out at key festivals in Venice, Italy, where Attah took home a breakthrough acting award, as well as Telluride, Colo., and Toronto.
"I hope soon we can start talking about how great Idris and Abraham are and what a great film Cary made and stop talking about how it's being distributed," says Jonathan King, the Participant Media executive who helped develop the film before the streaming service bought it. Netflix, Strategy PR, and Siegal all declined to comment. When it comes to Beasts, the best possible outcome for Netflix is that people stop talking about Netflix.
Before it's here, it's on the Bloomberg Terminal.
LEARN MORE