Penfolds-Maker Bets Big on China's Love Affair With Luxury Wine
by
Winemaker Treasury rolls out $568 bottle of Grange in Shanghai

`They're willing to pay for it,' says head of marketing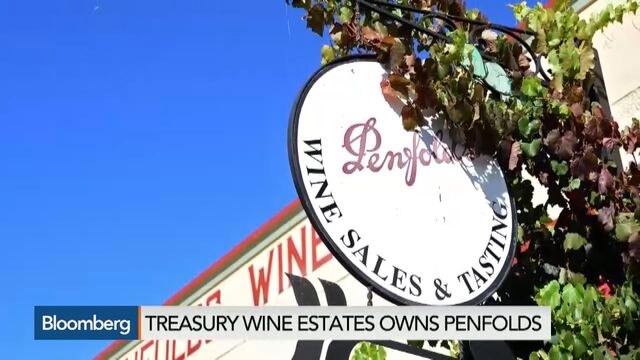 Treasury Wine Estates Ltd., the maker of Penfolds Grange, is betting on China's love affair with luxury as it transforms itself from an agricultural producer into a brand-led marketing company.
Treasury unveils its 2015 range of Penfolds wines, the Melbourne-based company's most famous label, in Shanghai on Thursday. It's the first year the collection has been launched outside of Australia.
The company, whose sales in China are soaring, said in August it expects Asia to be its biggest profit driver within 18 months. While they're already the world's biggest consumers of red wine, Chinese drinkers know relatively little about the product and often turn to expensive, famous labels to avoid any embarrassment, said Simon Marton, Treasury's chief marketing officer.
"The Chinese consumer is very favorable to well-known premium, global brands and they're willing to pay for it," Marton said in an interview from Shanghai on Wednesday. They'll pay "a premium price for a product where you know you're not going to lose face."
This year's collection of 20 Penfolds wines includes the 2011 Grange for A$785 ($568) a bottle and a 2013 Bin 707 Cabernet Sauvignon for A$500. The cheapest, a 2013 Cabernet Sauvignon, goes for A$30.
Chief Executive Officer Michael Clarke, who took charge in March last year, is seeking to avoid the profit ebb and flow of a commodities-based company. Amid his tightened focus on luxury labels, Treasury this week agreed to buy most of Diageo Plc's U.S. and U.K. wine assets for $600 million.
U.S. Brands
That will give it U.S. brands including Beaulieu Vineyards and Sterling Vineyards and double revenue from luxury and premium wine in the U.S., currently the winemaker's biggest market. Treasury ultimately plans to take Diageo's wine brands beyond the U.S., Marton said in the interview.
Asian income surged 53 percent in the year ended June, helping the company swing from a loss to a A$77.6 million profit. Volumes in China jumped 36 percent.
Cracking the growing China market is part of Treasury's transition to a brand-led marketing company, said Farina Parsons, a Sydney-based analyst at Morningstar Inc. High-end labels such as Penfolds Grange deliver bigger profits per bottle than mass-market products, she said.
"The more they can sell of these brands, the more it will benefit their margins," she said. "China is becoming increasingly a bigger contributor to profits. They're on the right track but as the market becomes more and more important, they need to do more."
Before it's here, it's on the Bloomberg Terminal.
LEARN MORE