Nike Expects Sales to Hit $50 Billion by 2020
by
Women's business will double revenue, driving overall gains

Online revenue to rise to $7 billion from $1 billion currently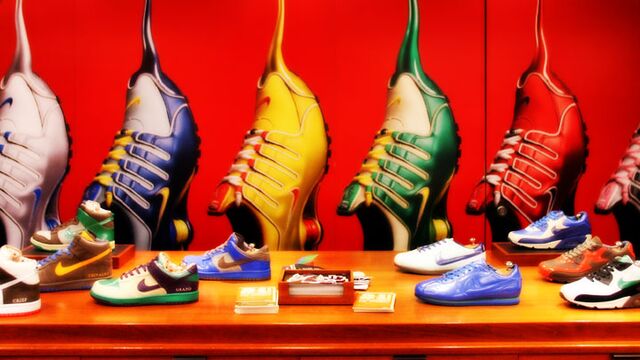 Nike Inc. Chief Executive Officer Mark Parker is banking on more sales to women as the company marches toward $50 billion in revenue in 2020.
The world's largest sporting-goods company said its women's business will double to $11 billion in revenue in five years, while online sales will increase sevenfold to $7 billion, the company said Wednesday during a presentation to analysts. The company's total revenue forecast implies annual growth rate of about 10.3 percent. Sales rose 10.1 percent in the fiscal year through May 31 and 9.8 percent the prior year.
"We see this as not a fitness trend for women -- that is, short term like a fashion trend -- but we see this as a lifestyle shift," Parker said during an interview with Bloomberg Television's Stephanie Ruhle. "Active apparel will be here to stay for years to come."
Nike also said earnings per share would increase at a mid-teens percentage through 2020 as it expands profitability by raising prices, reducing manufacturing waste and cutting labor costs.
"Key to this growth is a significant shift" to more sales through its own stores and website, Michael Binetti, an analyst at UBS AG, said in a research note Thursday. Binetti, who recommends buying Nike's shares, raised his 12-month price target to $140.
The forecasts continue Nike's practice of laying out ambitious projections at the investor days that it holds every two years. In 2013, the company said annual sales would reach $36 billion by 2017, which meant a growth rate of 9.2 percent. Analysts, on average, expect revenue of $35.6 billion that year.
High Expectations
The stock rose 2.3 percent to $128.79 at the close in New York. Nike shares have gained 34 percent this year, compared with a 1.7 percent drop for the Standard & Poor's 500 Index.
Nike has been on the upswing since the global recession, with the stock tripling. Successes include taking market share from Adidas AG in soccer and increasing its presence in China and South America. The company has also benefited from fashion shifting toward the athletic and casual. The so-called "athleisure" trend has made dressy sweatpants popular and boosted the prospects of an entire industry -- from yogawear chain Lululemon Athletica Inc. to sneaker retailer Foot Locker Inc.

Nike expects sales of its women's business may grow to more than $11 billion by 2020 from $5.7 billion currently. That increase will include selling more basketball-related footwear and apparel through the Jordan brand, which so far has focused on men, Parker said. The company will also drive gains by opening 1,000 women's-focused locations in the next five years.
3-D Printing
Nike also announced the creation of a 125,000-square-foot innovation lab focused on burgeoning manufacturing processes like 3-D printing. The company has been talking for some time about rethinking how it constructs shoes. By making its production more automated, it could move some manufacturing out of Asia. Nike inked a partnership with DreamWorks Animation SKG as well to help it build a three-dimensional product design system.
The company is in the middle of a management transition. Co-founder Phil Knight will leave the board next year. Knight, who founded the company in 1964 at age 26, endorsed Parker, a Nike lifer, to replace him as chairman.
In recent years, Parker has sold off units like Umbro and Cole Haan, so the company could dedicate more resources to the Nike brand. That's paid off as its namesake line has only gotten stronger.
Before it's here, it's on the Bloomberg Terminal.
LEARN MORE