Lying Husbands Pave Way for Bigger U.K. Divorce Payouts
By
AppSense co-founder fraudulently hid his wealth, judges say

`Restless nights ahead,' for dishonest divorcees, lawyer says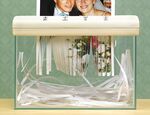 London re-staked its claim to be the divorce capital of the world as the U.K.'s highest court ruled two ex-wives are entitled to larger divorce settlements because their husbands hid their true wealth.
Alison Sharland, whose husband Charles Sharland co-founded software company AppSense Ltd., originally received 10.3 million pounds ($15.8 million) as part of a settlement. She later found he had been having discussions with investment bankers about an initial share sale, valuing it much higher than originally claimed.
"By the husband's fraud and the judge's order, she had been deprived of her right to a full and fair hearing," Judge Brenda Hale said handing down the ruling in London Wednesday. The U.K. Supreme Court said the lawsuit should be re-opened at a lower court. The decision could "open the floodgates for many previous divorce agreements to be revisited," Joanna Farrands, a lawyer at Barlow Robbins, said in an e-mail.
Varsha Gohil settled for about 270,000 pounds in 2004 from her ex-husband. He was later convicted and jailed for laundering as much as 37 million pounds. The Supreme Court ruled that at the time of the divorce the husband failed to disclose all his assets.
Defeat for Dishonesty
"Perseverance wins out," Graham Coy, a lawyer at Mundays, said in a statement. "This is a victory for common sense and a defeat for dishonesty -- it just goes to show that if you don't put all your cards on the table when divorcing it might come back to bite you further down the line."
Lawyers for Charles Sharland said he was "bitterly disappointed" with the ruling.
"We believe that this decision marks a fundamental change in the law," James Brown, a lawyer at JMW Solicitors who represented Charles Sharland, said in a statement. "It is perhaps ironic that Mrs. Sharland may actually end up with less as a result of the ongoing legal action than originally agreed more than three years ago."
The divorce is the latest high-stakes legal battle to make its way through British courts. An oil trader's ex-wife won a Supreme Court ruling giving her the right to force offshore companies owned by her former husband, Michael Prest, to turn over assets as part of a 17.5 million-pound settlement in 2013.
"Divorcees who have not been entirely candid about their net worth may well have restless nights ahead," Charlotte Bradley, a family lawyer at Kingsley Napley, said in a statement. "There is no time limit on claims being re-opened."