Lotte Chairman Ousted by Brother From Key Affiliate in Group
by
Kwang Yoon Sa shareholders vote to dismiss Shin Dong Bin

Elder brother Shin Dong Joo appointed as company CEO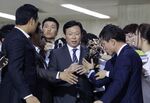 Lotte Group Chairman Shin Dong Bin lost his directorship at one of the conglomerate's key companies in the latest move spearheaded by his disgruntled older brother amid a power struggle over control of the group.
Kwang Yoon Sa, the biggest holder of unlisted Lotte Holdings Co., which is key to controlling Lotte Group, held a meeting of shareholders on Wednesday to remove Shin from the board, according to an e-mailed statement from a company controlled by the elder brother. Shin Dong Joo, the elder brother, was also appointed as chief executive officer of Japan-based Kwang Yoon Sa, according to the statement.
"As the biggest shareholder of Kwang Yoon Sa and Lotte Holdings, I plan to correct and reform the many problems at Lotte Group," Shin said in a statement that was read out to reporters outside the shareholder meeting in Tokyo.
In response, Lotte Group said in a statement that the changes won't disrupt management at the retail conglomerate because Kwang Yoon Sa is not a holding company, but rather a family owned company that holds a fraction of Lotte Holdings.
The decision comes amid a power struggle that began in July at South Korea's biggest retail giant. The Lotte case has gained national attention in a country where disputes between family members at corporate dynasties -- known locally as the chaebol -- are rarely displayed in public.
In July, Shin Dong Joo, acting through his father, tried to have his younger brother fired from Korea's largest retail giant only to see the plan backfire as the patriarch became sidelined to an honorary position. The elder brother owns 50 percent and his sibling 39 percent of Kwang Yoon Sa, the largest shareholder of Lotte Holdings, which is key to controlling conglomerate Lotte Group because of its various stakes in group affiliates.
Last week, the group's 93-year-old founder Shin Kyuk Ho and his older son renewed their challenge for power, by suing Lotte's chairman and other board members of Lotte Holdings to nullify the patriarch's July 28 ouster on grounds that he was illegitimately deposed.
Though Lotte Holdings is based in Tokyo and has operations in Japan, the group generates the bulk of its business in Korea, where it has 80 affiliates in areas ranging from department stores to amusements parks and hotels with estimated 112 trillion won ($97 billion) of assets. Lawsuits were filed both in Korea and Japan.
Lotte Shopping Co. dropped 3.7 percent to 258,000 won, the lowest level since Aug. 26, at the close of Seoul trading. Lotte Confectionery Co. rose 1.1 percent while the benchmark Kospi fell 0.5 percent.
Before it's here, it's on the Bloomberg Terminal.
LEARN MORE