Israel's Biggest Shekel Pessimist Sees 6-Year Low Amid Violence
by and
RBC's Tenengauzer predicts currency will reach 4.2 per dollar

Economy almost stagnant as violence spreads through country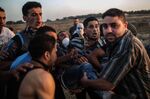 The first forecaster to correctly predict how low the shekel would fall this year now expects Israel's currency to drop to levels last seen in 2009.
Daniel Tenengauzer, head of foreign-exchange strategy at RBC Capital Markets in New York, says a combination of violence, China's slowdown and a giant gas discovery in neighboring Egypt will send the shekel tumbling 10 percent by year-end. He says the mix of domestic and international factors reminds him of when he was living in Jerusalem in the early 2000s, and the Palestinian uprising and dot-com crash pushed the currency to a record low.

"Israel is seeing things now that it hasn't seen in a long time," Tenengauzer, the most  bearish forecaster in Bloomberg's shekel survey, said in an interview in Tel Aviv. "The scale now is different than it was in the 2000s, of course, but the fear is that we could be going into a situation where we have a precarious external situation, with markets like China seeing slower growth, and a difficult internal situation as well."
Even before a series of attacks this month on Israelis and violent demonstrations where Palestinians were shot dead by Israeli troops, the economy had slowed almost to a standstill. While a weaker shekel would reflect the depths of Israel's challenges, it may also bring some relief to officials by making the nation's exports more competitive and helping Bank of Israel Governor Karnit Flug end 12 straight months of negative inflation.
The past year has been a period of ups and downs for the shekel.
Sapped by flagging growth and falling exports, Israel's currency dropped to a 2 1/2-year low of 4.0682 per dollar in March, before rallying on speculation gas exports would boost the current-account surplus.
Top Performers
The shekel is up 2 percent this year, making it one of a handful of major currencies to beat a dollar spurred by the prospect of higher U.S. interest rates.
Tenengauzer is bearish in part because the benefit of the gas revenues has recently been undermined by the energy find in Egypt. He sees the shekel dropping to 4.2 per dollar by year-end and 4.5 by the third quarter of 2016, from 3.8227 as of 10:33 a.m. in New York. Both estimates are the most pessimistic among more than 20 forecasts.
A Brazilian by birth, Tenengauzer emigrated to Israel as a young man and studied at the Hebrew University of Jerusalem. Last October, he became the first forecaster in Bloomberg's survey to predict the shekel would approach 4 per dollar in 2015. His third-quarter estimate from that time proved prescient, with the currency ending last month at 3.92, against a forecast of 3.95.
Worsening Crisis
At least 27 Palestinians and seven Israelis have been killed this month in the worst Israeli-Palestinian violence since last year's war in Gaza. Israel approved a series of new security measures on Wednesday to try to stem a surge of Palestinian attacks. Israeli Prime Minister Benjamin Netanyahu accuses Islamist groups and Palestinian leaders of inciting violence, while the Palestinians blame the Israeli occupation of territories they want as their future state and the collapse of peace talks more than a year ago.
"The more this situation goes on, the more people are likely to abstain from going to restaurants, to shops and to spend their money," said Dan Propper, chief executive officer of Osem Investments Ltd., Israel's largest food producer by market capitalization. "The economy's already not in such great shape."
Most forecasters aren't as bearish on the currency as RBC's Tenengauzer. For the shekel to weaken beyond 4 to the dollar, the economy would need to deteriorate significantly, according to ING Groep NV.
Israel's central bank cut its 2015 growth forecast last month to 2.6 percent from 3 percent, and its 2016 estimate to 3.3 percent from 3.7 percent. Annualized growth was just 0.1 percent in the second quarter.
"To be more bearish, I would need to see that view trimmed down more significantly with gross domestic product not achieving 3 percent next year or the year after," said Dorothee Gasser, ING's London-based chief economist.
Before it's here, it's on the Bloomberg Terminal.
LEARN MORE