business
Goldman Declares the Death of Global Phillips Curve Exaggerated
By
Unemployment-inflation link `alive and well,' Goldman says

Fed Governor Brainard questioned relationship this week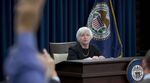 The traditional relationship between falling unemployment and faster inflation was supposed to be a victim of the financial crisis. A debate has erupted whether that is still the case.
Encapsulated in the so-called Phillips curve -- named for work in the 1950s by the New Zealand-born economist William Phillips -- the theory goes that as labor markets tighten, workers will become increasingly scarce and so win wage increases. The resulting inflation will need to be offset by higher interest rates from central banks.
The scars of the recession the 2008 crisis caused may have made workers less able to bargain for higher pay, while competition from emerging markets, reduced trade union power and technological advances also limit their negotiating ability.
If that is what is happening, then monetary policy makers can allow unemployment to fall further before having to step on the brakes. Just this week, Federal Reserve Governor Lael Brainard said she did "not view the improvement in the labor market as a sufficient statistic for judging the outlook for inflation" and that the argument for the Phillips curve was "at best, very weak."
By contrast, Fed Chair Janet Yellen said in September that "a labor market moving toward full employment is one that historically has generated upward pressure on inflation. So that bolsters my confidence in inflation."
'Alive and Well'
At Goldman Sachs Group Inc., economist David Mericle is leaning Yellen's way and says the Phillips curve seems "alive and well" in the U.S. and across the world's richest economies even though inflation falls short of central bank targets in most.
Mericle's review of data from members of the Organization for Economic Cooperation and Development showed unemployment rates still had a "statistically significant" effect on both wage growth and inflation in a majority, even if only the last five years were monitored. More recent data backed that finding.
"Overall, we see the international evidence as providing further support for the view that further declines in labor market slack should eventually put upward pressure on wage growth and inflation," said Mericle.
Investors aren't so sure. For now, they're betting that many central banks will allow unemployment to fall further before they raise rates, Steve Barrow, head of Group-of-10 strategy at Standard Bank Group Ltd. in London, wrote in a report to clients on Wednesday. The threat to such a view is that the Phillips curve does begin to work again and more hawkish policy makers seek to respond.
"We can't be sure that this will happen but, as long as the risk persists, we will remain a bit wary of any recovery in global asset prices, such as stocks," Barrow said.
Before it's here, it's on the Bloomberg Terminal.
LEARN MORE