Gold Analysts Split on Fed View as Rate Doubts Spur Volatility
by , , and
About half of traders surveyed expect an annual loss in 2015

Volatility is near three-month high on clouded rate outlook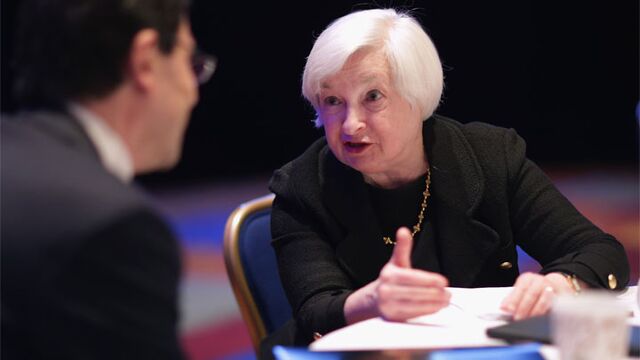 The Federal Reserve is giving the gold market a splitting headache.
With mounting doubts over when Fed policy makers will raise U.S. interest rates this year, traders and analysts are becoming increasingly divided on where prices go from here. Half of the respondents in a Bloomberg survey expect bullion to drop for a third straight year in 2015, and the rest are predicting a gain.
As the outlook got cloudier for interest rates -- which can erode the appeal of holding metals that don't offer yields -- gold volatility has jumped close to a three-month high. Hedge funds have been befuddled, betting the wrong way on price moves in four of the past seven weeks. Even the two most-accurate forecasters over the past quarter are at odds over what the Fed moves mean for bullion, data compiled by Bloomberg show.
"Some people are just going crazy waiting," said Alan Gayle, a senior strategist for Atlanta-based RidgeWorth Investments, which oversees $40 billion. "There's a great deal of Fed watching and Fed guessing going on. The uncertainty surrounding the next moves by the Fed make it difficult to assign discounting factors" for gold, he said.
Bullion has fallen for five straight quarters, the longest streak since 1997, as the U.S. economic recovery gained momentum and the job market improved, fueling expectations that the Fed would stick with its guidance for higher rates. That picture has been muddled over the past month. Prices on Wednesday closed above the 200-day moving average for the first time since May.

On Oct. 2, an employment report missed economists' estimates, signaling the global slowdown may be having ripple effects on the American economy. Policy makers at their Sept. 16-17 meeting delayed liftoff, citing concerns over growth, minutes of the gathering showed. Half way through October, gold futures in New York are heading for their biggest monthly gain since January.
Twenty-one of 41 analysts surveyed by Bloomberg from Sydney to New York see gold prices ending 2015 with a loss, while the rest expect a rebound. Higher borrowing costs make gold less competitive with interest-bearing assets such as bonds, and tighter monetary policy usually strengthens the dollar and cuts the appeal of metals as an alternative.
Gold is almost unchanged since the end of December at $1,185.50 an ounce at 11:25 a.m. on the Comex in New York, recovering from losses of about 9 percent. The metal tumbled 29 percent in the previous two years as low inflation, a stronger dollar and an equity rally spurred some investors to lose faith in bullion as a store of value. A decline for 2015 would mark the longest slump since 1998.

The Fed's delay in raising interest rates has created a split among the two most-accurate forecasters during the third quarter. Sure, both Robin Bhar at Societe Generale SA and Barnabas Gan at Oversea Chinese Banking Corp. are bearish. But Gan says prices will rise if the U.S. central bank fails to raise borrowing costs, while Bhar predicts declines even if the move takes longer than expected.
Gan predicts bullion will fall to $1,050 in the final three months of the year. That is based on the Fed raising interest rates for the first time since 2006 either this month or in December. If that doesn't happen, Gan says prices will rally to $1,200 this quarter and he will need to revise his outlook for next year, which is for gold to drop to $950. That's where his opinion collides with Bhar, who doesn't see the Fed's delay as a threat to his fourth-quarter forecast of $1,050 or his 2016 outlook of $1,000.
"Even if you see rates staying lower for longer, I still wouldn't put my money into gold," Bhar said. "I see better potential upside in equities." Any rally in gold is a good time to sell, he said.
Traders are putting the odds of a Fed move by December at 30 percent, according to futures trading. That's down from 74 percent just two months ago. The declining odds of a rate increase are probably pushing many traders to close bets on gold declines, said Ross Norman, the chief executive officer of Sharps Pixley Ltd., a London-based gold dealer. While the slump in prices was enough to entice buyers in the physical market, it would take a sustained rally for bullion to "get back on the radar of investors," he said.
Bullish Wagers
Money managers have increased their gold net-long position in each of the past three weeks, U.S. government data show. The gains were mainly spurred by declines in short positions, with smaller increases in long wagers.
While holdings in exchanged-traded funds backed by bullion rose in August and September, the first consecutive increase since February, the assets only climbed by about 7 metric tons to 1,530 tons. That compares with the year-to-date drop of about 70 tons. Gold prices have swung between year-to-date gains and losses more than 10 times in 2015 as traders tried to gauge the timing of the rate rise.
"Gold is such a huge market, with so many factors influencing it, it's simply not possible to calculate all the possibilities," Christopher Cruden, the Chief Executive Officer of Insch Capital Management, which oversees more than $250 million, said Oct. 8. "The best thing to do is just to filter out the noise, filter out the emotion and trade gold on non-subjective indicators."
Before it's here, it's on the Bloomberg Terminal.
LEARN MORE