Fortress, Bain Lead Hedge Funds Liquidating in Market Volatility
by and
This year's shutdowns total more than $16 billion in assets

Comac Capital, JAT among firms that have returned client money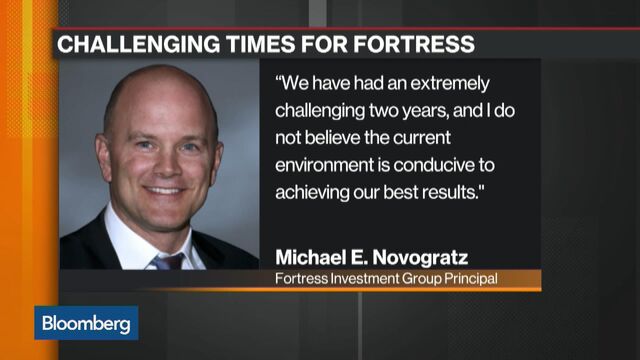 Fortress Investment Group LLC and Bain Capital are leading the list of big-name money managers liquidating hedge funds this year as volatility roils global markets.
Hedge funds with more than $16 billion have announced shutdowns so far in 2015, according to data compiled by Bloomberg. Fortress said Tuesday it's closing its $2.3 billion macro business run by Michael Novogratz after posting losses for almost two years. Bain said last week it's shuttering its macro fund, which sustained more than three years of declines.
"There's an inherent flaw in the hedge fund business model," said Sam Won, founder of Global Risk Management Advisors, which advises hedge funds and investors. "A lot of investment themes for hedge funds are of a longer tenor than the investor is committed to the fund."
Hedge fund managers, among the highest-paid investors on Wall street, have struggled to navigate markets rattled by the Swiss franc's unexpected surge in January, the devaluation of the Chinese yuan in August, or this year's declines in oil and gold prices. It hasn't been all bad news for the $2.9 trillion industry: Funds averaged a 0.7 percent return in 2015 through September, according to Bloomberg data, compared with a loss of 6.6 percent for global stocks.
Fortress closed its macro business as trades including the Swiss franc and the Brazilian real went awry.
'Added Stress'


"After asking myself the simple question, 'Is the environment we are operating in conducive to achieving our best results?' the decision became easier," Novogratz wrote Tuesday in a letter to clients. "We have reached a point where the added stress of an underperforming fund has become unproductive."
The large-scale closures started with Comac Capital, the London-based manager run by Colm O'Shea, who shut his $1.2 billion firm in January after losses on the Swiss franc. Two months later, a pair of funds backed by billionaire investor Julian Robertson, TigerShark Management and Tiger Consumer Management, told clients they were shuttering.
Meredith Whitney, who turned fame as a banking analyst into a stint running her own hedge fund, said in June that she had returned money to clients after less than two years and was done with the industry. Incapture, an investment and technology firm backed by former Barclays Plc Chief Executive Officer Bob Diamond, said in August it was closing its sole fund.
"We're seeing persistent back-to-back negative performance by some of the biggest names," said Peter Rup, chief investment officer at New York-based Artemis Wealth Advisors LLC, which invests $400 million of client money in hedge funds. Central bank stimulus has had a "perverse effect on the minds of managers, convincing them that they can generate profits just by being long," he said.
China's Growth
Some 417 hedge funds announced shutdowns in the first half, according to Hedge Fund Research Inc. While that number isn't on track to surpass the 864 funds that closed in 2014, the market turbulence of the last two months caused by concerns about China's slowing economic growth could lead to a pickup in the fourth quarter.
A record 1,471 funds liquidated amid the 2008 financial crisis.
Some of the biggest names that remain in business are having a hard time, reminiscent of the 2008 slump that saw the industry post record losses and clients pull more than $150 billion. Funds run by David Einhorn and Bill Ackman are among those in the red, while Michael Platt and Sean Fahey are managing less than a third of the assets that they oversaw at their peaks.
Before it's here, it's on the Bloomberg Terminal.
LEARN MORE