EU's Need for Turkey to Halt Refugee Flow Collides With History
by
Leaders meet in Brussels with $1.1 billion on the table

Merkel set to reach out as Turkey's leverage increases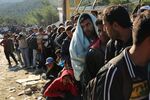 The European Union needs Turkey more than ever to halt the flow of refugees from the Middle East -- and has little to offer in return.
With its decade-old bid to join the 28-nation union stalled, Turkey will be the topic without being at the table at a summit of EU leaders Thursday in Brussels. On the same mission, Chancellor Angela Merkel of Germany, the biggest single refugee destination, plans to travel to Istanbul on Sunday to meet Turkish leaders.
Relations have been all downhill since EU membership talks with Turkey began in 2005, years before civil war in neighboring Syria sent refugees streaming toward Europe. Turkey is stymied in part by Cyprus, its Mediterranean rival, and an anti-expansion mood in northern Europe. Meantime, a blossoming Turkish economy fed the sense that the country of 77 million could get along fine on its own.
"Many people in the EU are regretting the unproductive approach they had to the accession negotiations with Turkey, blocking the process and creating a deep sense of resentment in Ankara," said Amanda Paul, an analyst at the European Policy Centre in Brussels. "If it were going along normally, it would be easier to reach this sort of agreement with Turkey."
Contacts are so strained that after President Recep Tayyip Erdogan went to Brussels on Oct. 5 to consider an "action plan" on migration, Turkish officials said the plan wasn't discussed. EU Commission President Jean-Claude Juncker's spokesman downgraded it to "an accord in principle to undertake a process."

After Syria descended into war in 2011, European governments were content to let neighboring states such as Turkey, Lebanon and Jordan cope with the refugee influx. Only once Turkey amassed 2.2 million and they started heading northwest did European leaders wake up, finding themselves in the biggest refugee crisis since World War II.
Germany, with a population of 81 million, is being roiled by this year's expected arrival of at least 800,000 refugees, which is causing strains in Merkel's governing coalition.
Turkish 'Burden'
"Turkey fears that even more refugees will come because the fighting in Syria isn't letting up," Merkel said Wednesday in a speech in eastern Germany. "I will fly to Turkey on Sunday to see how we can help on the ground so Turkey's burden is shouldered more widely."
EU leaders hope to shut the Turkish migration route by offering the country up to 1 billion euros ($1.1 billion) to shelter Syrians and Iraqis on Turkish soil. Money is all Turkey is likely to get.
QuickTake Europe's Refugee Crisis
"The EU is naive to think that Turkey will solve the EU's problems," Slovak Prime Minister Robert Fico said Wednesday in Bratislava. "And Turkey is probably expecting too large benefits in exchange."
Reviving the membership bid is a non-starter and EU officials are non-committal about offering Turks visa-free travel to Europe, a concession Turkey is keen on.
While visa-free travel is one of few inducements the EU can offer to neighbors, it faces hurdles in a Europe marked by the rise of anti-foreigner political parties. Ukraine asked in 2008 and is still waiting.
Democratic Standards
Engaging with Erdogan risks turning EU leaders into recruits for his party in the campaign for Nov. 1 parliamentary elections. Erdogan has endured regular EU criticism for stifling dissent, notably by cracking down on peaceful protesters in Istanbul's Gezi Park in June 2013.
The EU's annual report on Turkey's observance of EU democratic standards was postponed from Wednesday until later in October. Amid concern that the EU will shower Erdogan with political gifts, EU President Donald Tusk said in a pre-summit letter that the goal is an EU-Turkey accord to stem the refugee flow and "concessions will only be justified when this goal is achieved."
Erdogan's call for a "safe zone" for refugees inside Syria also won't be among the concessions. European governments, mindful of the no-fly zone over Libya in 2011, say that would be a job for the United Nations.
"Turkey increasingly feels the need to build a safe zone within Syria to stop the flow of people," said Oner Bucukcu, an analyst at SDE, a research center in Ankara. "Yet it is not clear whether EU will back that project in any way."
Before it's here, it's on the Bloomberg Terminal.
LEARN MORE