Economy in U.S. Expanded Modestly Since Mid-August, Fed Says
Jeanna Smialek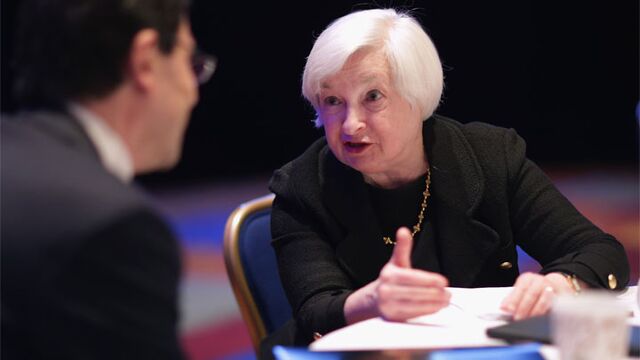 The U.S. economy grew modestly with little inflation pressure from mid-August to early October as a strong dollar weighed on manufacturing and tourism, a Federal Reserve report showed.
Six of the 12 Fed districts called the expansion "modest," while three reported "moderate" growth, according to the Beige Book released Wednesday in Washington. Two districts, Boston and Richmond, saw an increase in economic activity, while Kansas City declined. The pace of growth in Richmond and Chicago slowed compared with the previous report, the central bank said.
Labor markets "tightened in most districts" even as wage growth remained subdued, with increases concentrated among highly skilled workers, the report said. Price pressures were "contained" as some districts saw cheaper energy and commodities, according the survey, which is based on information Fed district banks gathered on or before Oct. 5.
"Business contacts across the nation were generally optimistic about the near-term outlook," the report stated. Consumer spending "grew moderately," housing and commercial real estate improved, and banking and finance "were generally positive," the report stated.
Less favorable reports came from industries including manufacturing, which "turned in a mixed but generally weaker performance," it said. Goods transportation also softened and the energy sector declined further.
Fed policy makers at their Sept. 16-17 meeting voted to leave their main policy interest rate unchanged, which has been held near zero since December 2008. They wanted to wait for more information to gauge how a slowdown in China influences their confidence in the outlook for U.S. inflation and growth.
October Meeting
Anecdotal evidence from the Beige Book will contribute to that debate when officials meet again on Oct. 27-28. This month's gathering of the policy-setting Federal Open Market Committee is not scheduled to be followed by a press conference, while there is one planned after the Dec. 15-16 FOMC.
As some parts of the nation see stronger economic conditions, it may be fueling a divide between how regional Fed bank presidents and some members of the Fed's Board of Governors in Washington view the strength of the expansion.
Minutes from the regional Fed board of directors' September discount-rate meetings, released Tuesday, paint a picture of regional banks that are eager to begin tightening monetary policy. Eight of the 12 bank boards voted to increase the discount rate, which is applied to direct loans to banks from the Fed, up from five regional banks in August. The Board in Washington declined to implement their request.
In contrast, two Fed governors, Lael Brainard and Daniel Tarullo, urged patience in raising the benchmark federal funds rate in comments this week. Tarullo told CNBC Tuesday that he doesn't currently favor raising interest rates in 2015, while Brainard, speaking the day before, highlighted that the risks of moving prematurely may be greater than the risks of waiting too long.
Before it's here, it's on the Bloomberg Terminal.
LEARN MORE