Stocks Resume October Rally as Fed Rate Bets Fade, Bonds Drop
by and
Gold claws back its 2015 losses; emerging-market assets jump

Citi drives U.S. banking gains on above-estimate earnings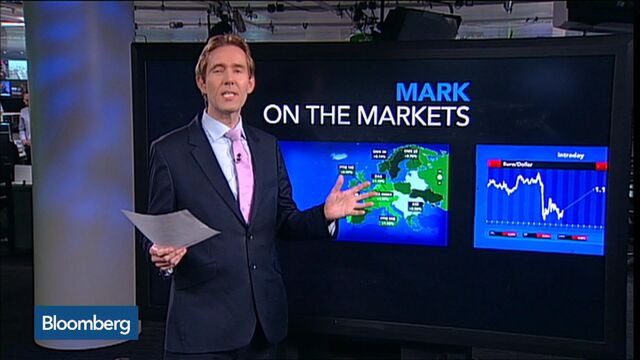 Global equities resumed their October rebound, with U.S. stocks rising to an eight-week high amid bank earnings and mounting speculation the Federal Reserve will put off raising interest rates until 2016. Treasuries fell, while gold erased its loss for the year.
The Standard & Poor's 500 Index jumped the most in 10 days with gains in the largest U.S. financial firms leading equities higher after two days of declines. Economic data from Group of 10 nations are trailing analysts' estimates by the most in four months, fueling bets the Fed won't pull the trigger until next year on the first rate rise since 2006.

"The Fed is the 800-pound gorilla," said Michael Antonelli, an institutional equity sales trader and managing director at Robert W. Baird & Co. in Milwaukee. "People's expectations around what they're doing are what cause sharp reversals or sharp gains. Earnings are probably No. 2 on that list of what's impacting day-to-day moving."
The probability of a Fed interest rate increase by central bank's December policy meeting has dropped to 30 percent, down from 70 percent at the start of August, according to futures data compiled by Bloomberg. The pullback in bets worsened even after a gauge of U.S. core consumer prices advanced more than projected in September, while data on hiring provided evidence of labor-market resilience.
Stocks
The S&P 500 rose 1.5 percent to 2,023.86 by 4 p.m. in New York, climbing to the highest level since Aug. 20. The gauge rebounded from two days of losses to push its advance this month beyond 5 percent.
Financial shares paced broader stock gains with a 2.3 percent rally. Goldman Sachs Group Inc. added 3 percent even after posting third-quarter profit that missed analysts' estimates. Last quarter's global market turmoil took a bigger toll on Goldman's trading revenue than it did for rivals. Citigroup Inc. gained 4.4 percent as its profit beat estimates.
The S&P 500 has jumped 8.4 percent from the depths of its August selloff, though it remains 5 percent below an all-time high set in May. The gauge has rallied as the weaker dollar bolsters prospects for American companies that do business overseas, and as speculation intensifies that rates will remain lower for longer.
The MSCI All-Country World Index climbed 1.4 percent to an almost eight-week high, with the Stoxx Europe 600 Index up 1.5 percent, led by technology and financial companies. MSCI's Asia Pacific Index surged 1.9 percent, the most since Oct. 7 as stocks from Japan to Hong Kong jumped.
Bonds
Treasuries fell for the first time in a week, though declines were limited as bets on a 2015 U.S. rate hike recede. Yields on 10-year notes climbed five basis points, or 0.05 percentage point, to 2.02 percent. The yield dipped below 2 percent Wednesday for the first time since Oct. 5.

Emerging Markets
The MSCI Emerging Markets Index advanced 1.8 percent, its first advance in three days. Benchmark equity gauges in China, South Korea, Turkey, Thailand and the Philippines climbed at least 1 percent.
The Shanghai Composite Index added 2.3 percent and the Hang Seng China Enterprises Index rose 2.1 percent in Hong Kong. A Chinese plan to reorganize the telecommunications industry stoked speculation that the government will accelerate reforms of state-owned companies to revive growth.
Commodities
West Texas Intermediate crude dropped 0.6 percent to $46.38 a barrel in New York, as an increase in U.S. supplies bolstered speculation that a global surplus in the commodity is persisting. WTI's four-day slide is the longest since July. Brent fell 0.9 percent to settle at $48.71.
American crude inventories rose by 7.56 million barrels last week, the most since April, according to Energy Information Administration data. The gain left supplies more than 100 million barrels above the five-year seasonal average level. Refinery operations slowed to the lowest level since January.
Gold futures rose 0.7 percent to settle at $1,187.50 an ounce. The metal has advanced for five straight sessions and is up 0.3 percent on the year as the prospect of Fed policy tightening being pushed out until next year burnishes its appeal versus interest-bearing assets such as bonds.
Before it's here, it's on the Bloomberg Terminal.
LEARN MORE