Delta Air Rallies on Plan to Curb 2016 Seat-Capacity Growth
by
Lower fuel costs help overcome weakening airfares worldwide

A benchmark revenue gauge is still dropping, but more slowly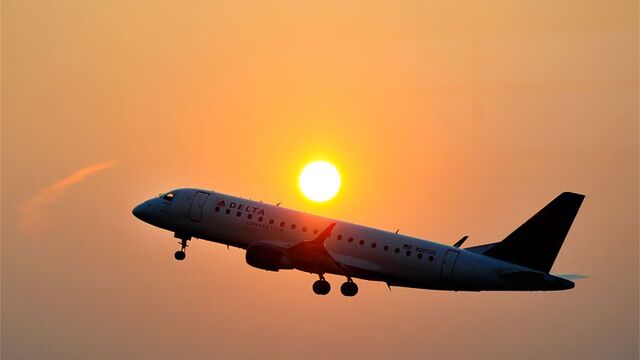 Delta Air Lines Inc. rose to its highest price in almost nine months after pledging to keep a lid on seating-capacity growth through next year to help regain pricing power against discount rivals.
The supply of available seats will increase by no more than 2 percent in 2016 after being unchanged this quarter, Delta said Wednesday. Matching the supply of tickets to travel demand is crucial, especially with some low-fare carriers taking advantage of falling fuel prices to pile on more flights.
"Investors were concerned about the industry's capacity growth as many believed the industry lost its discipline due to a lower fuel cost environment," Cowen & Co. analyst Helane Becker said in a note Wednesday. "Delta's 2016 capacity guidance will likely ease concerns of overcapacity."
Delta posted a third-quarter profit that beat analysts' estimates to open earnings reports for the U.S. industry in its busiest time of the year. With the rout in global crude markets cutting expenses for jet kerosene, analysts project that the six largest carriers will show a collective adjusted profit of $5.9 billion, a record for the period, according to estimates compiled by Bloomberg.
Good Season
"It's going to be a good season for the airlines," said George Ferguson, a Bloomberg Intelligence analyst. "They all have this gift of low fuel prices."
Delta gained 1.8 percent to $48.59 in New York, the highest closing price since Jan. 29. Delta was the best performer among the 11 stocks in the Bloomberg U.S. Airlines Index.
Delta's third-quarter earnings excluding some items were $1.74 a share, surpassing the $1.72 average of 15 estimates compiled by Bloomberg. Sales were $11.1 billion, Delta said Wednesday, matching the average estimate. Third-quarter net income more than tripled to $1.32 billion, or $1.65 a share, Delta said.
"Our revenue is basically flat year on year, and that's a result of the lower fuel, but we kept two-thirds of the lower fuel and put it to the bottom line," Chief Executive Officer Richard Anderson said in a Bloomberg interview.
Showing Improvement
Passenger revenue for each seat flown a mile will show improvement this quarter from previous periods, Delta said Wednesday. It's still dropping, though.
Carriers pay close attention to that benchmark gauge. When the seat supply expands -- especially with competition from low-fare operators -- carriers can struggle to raise prices.
For the fourth quarter, unit revenue will drop in a range of 2.5 percent to 4.5 percent, Delta said. That's better than the 4.9 percent decline for the third quarter, but still a sign of fare pressure for Delta and its peers at the top of the U.S. industry. For 2016, capacity will increase by no more than 2 percent, Delta said.
Weak Demand
Delta has moved to blunt the effects from weak demand overseas and the growth of U.S. discounters including Southwest Airlines Co. and Spirit Airlines Inc. In keeping seating capacity unchanged this quarter, it will offset U.S. expansion with an 11 percent reduction on Asia routes and a 1.5 percent cut to Europe.
The carrier also is trimming an unspecified number of office and management jobs worldwide. The cuts don't apply to pilots, flight attendants and other front-line employees.
Average U.S. coach fares fell to the lowest in almost five years in August, according to Airlines Reporting Corp. data compiled by Bloomberg, before rebounding in September.
At $1.80 a gallon, Delta's fuel cost was its lowest in years, compared with $2.90 a year earlier. The carrier also is moving past a series of wrong-way bets in recent quarters with hedging contracts.
Before it's here, it's on the Bloomberg Terminal.
LEARN MORE