Clinton Pressed by Rivals on Wall Street, Iraq: Tale of the Tape
By and
First Democratic debate marked by substance and passion

Gun violence, Syria emerge as flashpoints for candidates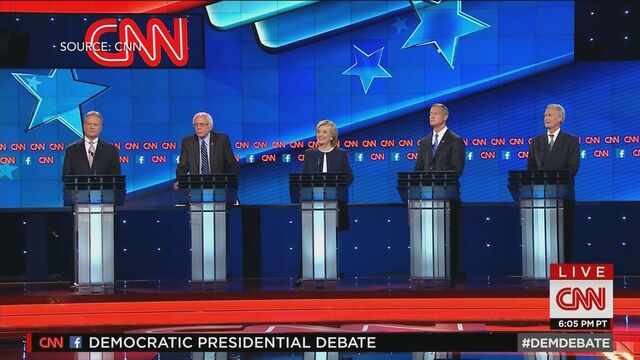 Democratic candidates have tiptoed around Hillary Clinton for months as they tried to make their own cases to the party's base. That ended Tuesday with their first presidential debate of the 2016 race.
Vermont Senator Bernie Sanders and Clinton's three other opponents went after her on issues from her truthfulness, to her 2002 Iraq war vote, to whether she is more worried about Wall Street or the middle class.
The fights showed Clinton giving as good as she got, defending her political consistency, putting Sanders on the defensive over guns and not getting rattled by what at times was a four-on-one battle. Sanders showed passion on Wall Street oversight and received the loudest applause of the night when he said he'd heard enough about Clinton's use of a private e-mail server.
Here are the fights that defined the night, and who came out on top.
Gun Violence
Heading into the debate, Clinton knew that gun control was the one issue where she could outflank Sanders from the left. She did just that.
In one of the debate's sharpest confrontations, Clinton hit Sanders for voting five times against the Brady Handgun Violence Prevention Act, which required federal background checks on firearms purchases. She said the law prevented more than 2 million prohibited purchases of firearms.
Clinton also dismissed Sanders's explanation for voting for a 2005 law backed by the National Rifle Association that grants immunity to gun manufacturers and dealers if their weapons are used in the commission of a crime. Sanders said gun dealers in his state shouldn't be held responsible if weapons they sell are used in violent incidents. He said the issue isn't so much about gun laws but the shortage of mental health services for people who use a gun, without elaborating.
"All the shouting in the world," Sanders said, doesn't "keep guns out of the hands of all the people and end this horrible violence we are seeing."
Sanders twice defended himself by saying he represented a rural state with different views than urban areas. The problem for Sanders: Democratic voters disproportionately live in cities. Clinton shot back that she voted yes on the Brady bill. "It wasn't that complicated to me when I had to vote," she said, adding that Sanders wanted "to give immunity to the only industry in America" that receives such liability protections.
"It's time the entire country stands up against the NRA," Clinton said, referring to the nation's largest gun-rights lobby.
Former Maryland Governor Martin O'Malley also poked holes in Sanders's urban-rural argument, saying that even though Maryland had rural areas, he was able to pass new gun control by "leading by principle and not pandering to the NRA."
Advantage: Clinton.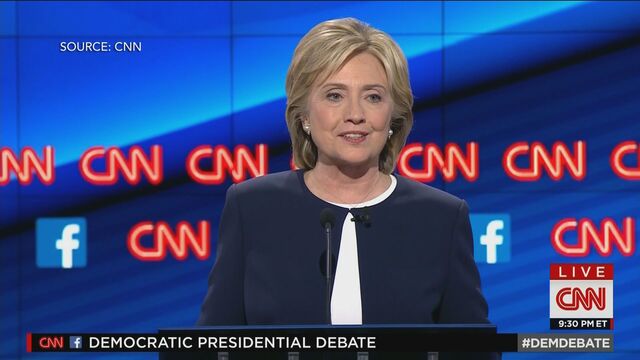 Wall Street Oversight
Clinton came out strong early, saying her goal was to "save capitalism from itself." She touted her plan to overhaul financial oversight, as both comprehensive and tough, including the possibility of jailing bankers who flout the law.
But the energy on the issue came from Sanders and O'Malley, who called for a fundamental breakup of giant U.S. banks -- a position at odds with Clinton but sure to resonate with many Democrats.
Sanders attacked Wall Street's record in the 2008 financial crisis, saying that "the greed and recklessness and illegal behavior of Wall Street, where fraud is a business model, helped to destroy this economy and the lives of millions of people."
He recounted a meeting with then Treasury Secretary Henry Paulson in 2008 at the time of the global financial meltdown. "I said, 'Hank, your guys -- you come from Goldman Sachs. Your millionaire and billionaire friends caused this problem. How about your millionaire and billionaire friends paying for the bailout, not working families in this country?'"
The idea favored by Sanders and O'Malley to separate traditional banking from activities such as trading and underwriting securities was U.S. law for generations until 1999, when Clinton's husband, Bill Clinton, signed a law to repeal the Glass-Steagall Act and pave the way for modern, complex financial firms.
Clinton, a former New York senator who counts Wall Street bankers among her most loyal campaign donors, spent much of her time looking beyond the megabanks to a crackdown on "shadow banking." It's a category that she's put hedge funds and high-frequency traders into, and she said "that's where the experts tell me the next potential problem could come from."
Sanders scored on passion. Clinton's answer was detailed.
Advantage: Even.

Iraq War Vote
Clinton didn't do as well fending off attacks on her 2002 vote in favor of the use of force in Iraq, an issue that helped scuttle her 2008 presidential campaign and looms large amid the rise of the Islamic State.
Sanders called the Iraq war "the worst foreign-policy decision in the history of this country" and said it raised questions about Clinton's judgment.
Even former Rhode Island Governor Lincoln Chafee got in a few digs. "If you're going to make those poor judgment calls at a critical time in our history," Chafee said, "that's an example of how people will perform in the future, and that's important."
Former Virginia Senator Jim Webb said the Clinton-backed intervention in Libya was an example of a "not wise thing to do" without a legislative debate.
Clinton offered up a new defense, saying that even though President Barack Obama had used the Iraq vote as a point of differentiation in 2008, he selected her as his secretary of state.
"He valued my judgment and I spent a lot of time with him in the situation room going over some very difficult issues," Clinton said.
But Sanders elicited applause when he pushed back, saying, "I heard the same evidence from President Bush and Dick Cheney and Don Rumsfeld" and voted against the resolution. Among Democrats, Clinton's Iraq war vote was a problem in 2008. Her rivals on Tuesday succeeded in making it a point of concern as the nation faces new threats in the Middle East.
Advantage: Sanders
Clinton flip-flops?
From the debate's very first moments, Clinton was confronted with the central question that has dogged her campaign: whether her candidacy and policy decisions are based too much on political expediency.
CNN's Anderson Cooper pressed the frontrunner on her policy shifts on issues from gay marriage to a Pacific trade pact. He even noted that Clinton had described herself on the campaign trail alternatively as a progressive and a moderate.
The former secretary of state mounted a vigorous defense.
"Over the course of my entire life, I have always fought for the same values and principles, but, like most human beings -- including those of us who run for office -- I do absorb new information," Clinton said. "I do look at what's happening in the world. Like most people I know I have a range of views, but they are rooted in my values."
Clinton effectively parlayed a question on how she had previously said the Trans-Pacific Partnership, a landmark trade deal opposed by labor unions, was a "gold standard" by saying that had merely been a hope that proved eventually unrealized once the deal was negotiated.
"I'm a progressive," Clinton said. "But I'm a progressive who likes to get things done."
Advantage: Clinton.
Clinton's E-Mails
No issue has dominated the opening months of the Democratic presidential campaign more than Clinton's use of a private e-mail server during her time at the State Department. Controversy over that decision has fed perceptions Clinton is secretive.
When Cooper teed up a question on Clinton's e-mails, Sanders could have scored some easy points. Instead, he said, enough.
Sanders told Clinton that the American people "are sick and tired about hearing about your damn e-mails."
Clinton said it's clear that there's a partisan effort by Republicans to bring her down, and said the congressional panel investigating the 2012 attack on a U.S. compound in Benghazi, Libya, was a "partisan vehicle" and "basically an arm of the Republican National Committee."
"I'm still standing," Clinton said.
Clinton is expected to testify before the House committee on Oct. 22. Government inspectors general have found that Clinton sent and received information on her private e-mail that should have been marked as classified, including satellite and human intelligence. Cybersecurity specialists have also suggested that the private server would have been more vulnerable to hacks.
Chafee argued Clinton's use of private e-mail showed that the country needs someone in the White House with strong ethical standard.
But it was Clinton who earned a massive round of applause when, asked if she wanted to respond, offered a curt response: "No."
Advantage: Even.