Cameron Pushes EU Negotiation Without Saying What He Wants
by
Cameron to hold second round of meetings with Juncker

Spokeswoman says negotiations will take time and patience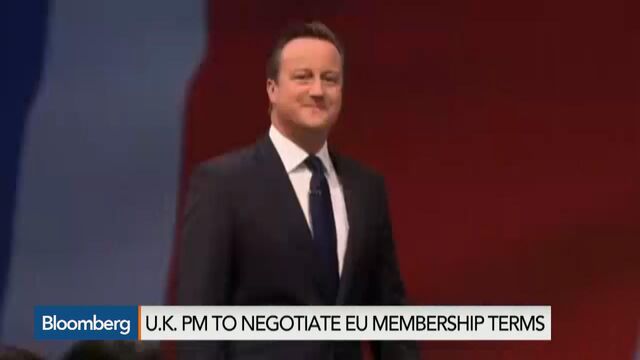 David Cameron will try to move his renegotiation of Britain's membership of the European Union on to its next phase, still without explicitly stating what he wants.
QuickTake Will Britain Leave the EU?
The prime minister traveled to Brussels on Thursday for a second round of meetings with European Commission President Jean-Claude Juncker and Parliament President Martin Schulz, followed by a full summit of EU leaders, in which the renegotiation is also scheduled to be raised.
"It's going to take time, and it's going to take patience," Cameron's spokeswoman, Helen Bower, told reporters in London on Wednesday. "The expectation and our intention is that there will be a substantive discussion at the European Council in December."
Having met all his fellow EU leaders over the summer, Cameron is trying to build momentum ahead of that end-of-year summit. His problem is that if he is too public about his wish list, then every goal he fails to achieve will be used against him by those who want Britain to leave the EU in the referendum that follows the renegotiation.
Broad Terms
As the renegotiation has got closer, the British government has given away little about what it wants. Cameron has spoken in broad terms of wanting to remove the EU's commitment to "ever closer union," protections for countries that don't use the European single currency and more powers for national parliaments to reject EU regulation. He is also pushing for tighter restrictions on the ability of immigrants to claim welfare payments.
Cameron must "tell us what he wants," Luxembourg Prime Minister Xavier Bettel said in an interview Thursday. "For me it's important to know what he wants so we can discuss about maybe common positions."
Juncker has repeatedly pledged a readiness to meet British demands as long as they don't impinge on EU principles such as the free movement of workers. He repeated his willingness to be flexible in his remarks to the European Parliament in Brussels Wednesday.
'Takes Two'
"Our negotiation teams are in close contact for weeks now," Juncker said. "I can't say that huge progress has been achieved, I can't say that nothing has been achieved, but to tango it takes two." He said "the commission wants a fair deal with Britain and we are working in that direction."
Scottish First Minister Nicola Sturgeon warned Cameron Thursday against trying to take Britain out of the bloc without the explicit approval of Scots. In such a case, she said in a speech to her Scottish National Party's conference in Aberdeen, "you may well find that the demand for a second independence referendum is unstoppable" in Scotland.
Exit Price
Even before the date of the referendum is set, the campaigns both to get Britain out of the EU and to keep it in have launched. Senior figures in Cameron's Conservative Party are openly flirting with pushing for a "leave" vote. London Mayor Boris Johnson, on a trip to Japan this week, told the BBC that "we want, in an ideal world, to stay in a reformed European Union but I think the price of getting out is lower than it's ever been."
Anthony Bamford, chairman of JC Bamford Excavators Ltd. and a donor to Cameron's Conservative Party, wrote in the Daily Telegraph newspaper on Wednesday that the U.K. has "nothing to fear" from leaving the EU. He said the price of membership "has simply become too high" and that he would vote to leave without "truly radical reform."
"We hear a lot about the risks of leaving the EU, but we do not hear enough about the risks of staying in," he wrote. "We do not have enough sovereign control over our own affairs now but will we have still less in the future? We are over-regulated now but will it become even more onerous?"
Before it's here, it's on the Bloomberg Terminal.
LEARN MORE