Buffett's Portfolio Takes Another Hit as Wal-Mart Shares Plunge
by
Berkshire Hathaway owns stake of more than 2% in retailer

Munger has lamented not buying Wal-Mart stock sooner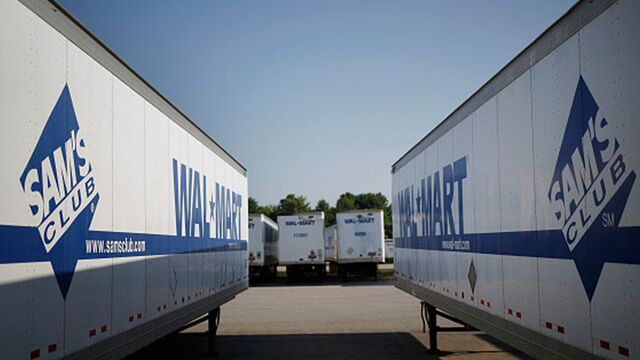 Billionaire Warren Buffett's stock portfolio suffered another setback as Wal-Mart Stores Inc. plunged after predicting profit would decline in its next fiscal year.
Wal-Mart fell $6.70, or 10 percent, to $60.03 at 4:15 p.m. in New York. That translates to a one-day paper loss of more than $450 million for Buffett's Berkshire Hathaway Inc., which had about 67.7 million shares as of June 30. Berkshire first reported a stake in 2005, and Vice Chairman Charles Munger has lamented that his company should have bought shares sooner.
Most of Berkshire's huge errors "were in not making a purchase, including not purchasing Wal-Mart stock when that was sure to work out enormously well," Munger wrote in a letter published in February. "Berkshire's net worth would now be at least $50 billion higher if it had seized several opportunities it was not quite smart enough to recognize as virtually sure things."
Wal-Mart's decline adds to losses this year for Buffett, the second-richest man in the U.S. and a famed stock picker. Wells Fargo & Co., Berkshire's largest holding, is down 6.1 percent this year. American Express Co. has fallen 18 percent since Dec. 31 and International Business Machines Corp. lost 6.5 percent. Berkshire slipped about 0.8 percent Wednesday, extending its fall for the year to 13 percent.
BlackRock, Vanguard
Buffett built his fortune by focusing on companies' long-term prospects, and the billionaire frequently says he looks at stock declines as an opportunity to buy more shares. He has also shifted his company's focus in recent years, buying a railroad and expanding utility operations that limit Berkshire's reliance on the investment portfolio. He didn't immediately return a message left with an assistant Wednesday seeking comment on the retailer.
Berkshire's Wal-Mart holding was accumulated at an average price of about $56 a share, according to his Omaha, Nebraska-based company's annual report.
Wal-Mart earnings will decrease 6 percent to 12 percent in fiscal 2017, which ends in January of that year, the Bentonville, Arkansas-based company said at its investor day on Wednesday. Analysts had estimated a gain of 4 percent on average, according to data compiled by Bloomberg.
Members of the Walton family are the company's largest investors. Berkshire holds a stake of more than 2 percent, according to data compiled by Bloomberg. Other top investors include BlackRock Inc. and Vanguard Group Inc., the data show.
Buffett was also hurt in recent years by declines in U.K. grocer Tesco Plc. He said in February that he took too long to exit his position in that company.
"I have no idea what Buffett will do" with the Wal-Mart stake, Brian Yarbrough, an analyst at Edward Jones & Co., said in an e-mail. But the billionaire is "probably not happy about the news coming out today."
Before it's here, it's on the Bloomberg Terminal.
LEARN MORE