BofA Profit Rebounds to $4.51 Billion as Revenue Beats Estimates
by
Revenue declines 2.4 percent while expenses fall 31 percent

Bond-trading revenue slides 11 percent, equities up 12 percent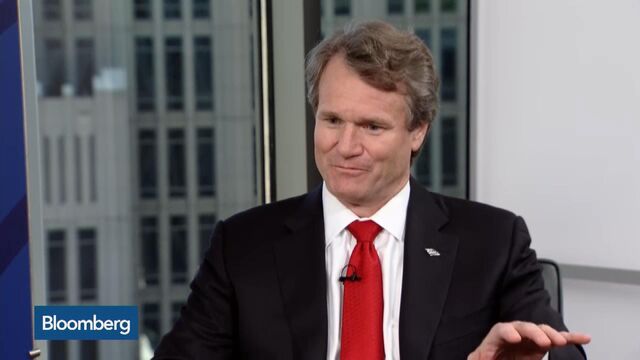 Bank of America Corp., the second-biggest U.S. lender, posted third-quarter profit of $4.51 billion as litigation expenses tumbled and loan growth pushed revenue above analysts' estimates.
Net income was 37 cents a share, compared with a loss of $232 million, or 4 cents a share, a year earlier, when the Charlotte, North Carolina-based bank had $6 billion in legal costs, the firm said Wednesday in a statement. The average estimate of 22 analysts surveyed by Bloomberg was for adjusted earnings of 33 cents a share.
Chairman and Chief Executive Officer Brian T. Moynihan, 56, is trimming expenses as low interest rates and volatile markets stymie revenue growth. He's been helped by waning legal expenses tied to his predecessor's acquisitions of Countrywide Financial Corp. and Merrill Lynch & Co., which have contributed to more than $70 billion in costs since the financial crisis. Revenue in the quarter fell 2.4 percent to $20.9 billion. That exceeded analysts' estimates, including the $20.2 billion prediction of Keith Horowitz at Citigroup Inc.
"They've done a good job of keeping expenses under control," Joseph Morford, an RBC Capital Markets analyst, said in an interview before results were released. Regarding trading, "things didn't necessarily finish strong for anyone in September," he said.
Costs Drop
Expenses fell 31 percent to $13.8 billion, mostly because of the litigation costs a year earlier, beating Horowitz's $13.9 billion estimate. Even excluding legal charges, expenses declined 4 percent as the company had fewer delinquent mortgage borrowers. 
"We made substantial progress over the past few quarters," Chief Financial Officer Paul Donofrio told reporters on a conference call, citing $16 billion in profit over the past year. "It gives you a much better sense of our earnings power now that most of legacy issues have been addressed."
Bank of America climbed 1.4 percent to $15.74 in early trading at 8:42 a.m. in New York.
Loan Growth
Donofrio said the firm extended more consumer and commercial credit, with total loans and leases rising for the second straight quarter to $888 billion. That reversed a slide as the firm rids itself of troubled mortgages. Deposits increased by $50 billion from a year earlier to $1.16 trillion.
The activity benefited the consumer bank, where profit climbed 5.4 percent to $1.76 billion as revenue rose 1 percent to $7.83 billion on increases in card and mortgage income. That topped estimates of $7.66 billion from Wells Fargo & Co.'s Matt Burnell and $7.62 billion from Steven Chubak at Nomura Holdings Inc.
Global markets, the trading operations run by Chief Operating Officer Thomas Montag, posted profit that more than doubled to $1 billion from $371 million a year earlier because of lower litigation costs. Revenue slipped 5 percent to $3.76 billion, primarily because of a fixed-income drop. Bond-trading revenue declined 11 percent because of sluggishness in credit, while equities trading rose 12 percent on strength in derivatives, the bank said.
Moynihan cut about 200 trading and investment banking jobs at the end of the quarter after saying that trading revenue was headed for a drop of about 5 percent for the period.
Net income at the global-banking unit fell 16 percent to $1.28 billion on lower underwriting fees.
Foreign Exchange
For last year's third quarter, Bank of America initially reported a surprise $168 million profit after $5.3 billion in charges for regulatory settlements. Three weeks later, the firm said foreign-exchange trading probes wiped out an additional $400 million, leaving Moynihan with his fifth quarterly loss as CEO.
Last month, Moynihan survived a battle to remove him as chairman, fending off critics including the biggest U.S. pension funds. A resolution allowing Moynihan to retain the two top jobs passed with about 63 percent of the votes. Pension funds and proxy advisers had argued that more independent oversight was needed for Moynihan, who's nearing his sixth year as CEO, as the bank's stock trails peers.
Management Changes
Wednesday's results are the first for Donofrio, who took over for Bruce Thompson in August. Donofrio was promoted in a broad shakeup that included making Terry Laughlin head of the bank's wealth-management division as David Darnell retires and naming human resources head Andrea Smith the firm's chief administrative officer. Bank of America is also looking for a replacement for General Counsel Gary Lynch, who was named vice chairman in July.
Wells Fargo, the world's biggest bank by market value, posted profit Wednesday that beat analysts' estimates on gains in interest income from asset purchases and new loans. JPMorgan Chase & Co., the largest U.S. bank, posted third-quarter earnings Tuesday that missed analysts' estimates as a slump in trading and mortgage banking drove revenue lower.
Before it's here, it's on the Bloomberg Terminal.
LEARN MORE