ASML Falls as Sales Forecast Trails Estimates on Lower Demand
by
Forecasts fourth-quarter revenue of about 1.4 billion euros

Foundry customers `slightly' more cautious, CEO says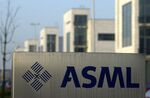 ASML Holding NV fell the most in two months as Europe's largest semiconductor-equipment maker forecast sales below analysts' estimates after customers delayed chip machine orders on slowing personal-computer and smartphone demand.
Fourth-quarter revenue will be about 1.4 billion euros ($1.6 billion), the Veldhoven, Netherlands-based company said Wednesday. Analysts had predicted 1.56 billion euros on average. The stock declined as much as 7 percent in Amsterdam, the steepest intraday decline since Aug. 24, and was trading 6.9 percent lower to 72.54 euros at 9:11 a.m.
A slowdown in China has led to sluggish global demand for semiconductors used in smartphones, PCs and tablets. Intel Corp., one of ASML's biggest customers, said in July it's cutting about $1 billion from its budget this year for new factories and equipment and on Tuesday projected a slowdown in demand from corporations, which had been one of the few bright spots at the world's largest chipmaker.
Marcel Achterberg, an analyst for Petercam, said that ASML was signaling that the first quarter of 2016 will also be lackluster. "Instead of two flat quarters, I now expect you'll see three flat quarters," he said.
So-called foundry customers, companies that produce chips to sell to others, are being "slightly more cautious with their investment plans," compared with ASML's expectations three months ago, Chief Executive Officer Peter Wennink said in a statement. "As a result, we expect fourth-quarter sales below the third-quarter level."
Third-quarter sales at ASML rose 17 percent to 1.55 billion euros, while net income advanced 32 percent to 322 million euros. Analyst had expected sales of 1.57 billion euros and profit of 319 million euros.
ASML is trying to persuade clients such as Intel, Samsung Electronics Co. and Taiwan Semiconductor Manufacturing Co. to upgrade their machinery to extreme ultraviolet lithography systems, which can produce smaller chips while increasing capacity and speed.
ASML expects to ship two more EUV machines this year, on top of the one machine shipped during the third quarter, CFO Wolfgang Nickl said in a video on the company's website. Customers are taking longer to order these systems, he said. Earlier this year, ASML said it expected to ship six machines in total. The current slowdown doesn't impact the company's target for 10 billion euros in revenue in 2020, the CFO added.
"The leading customers, that are going to launch EUV first, of course have two or three systems in-house already, so they can do their development," he said.
Global PC shipments fell 7.7 percent in the third quarter, hurt by slower desktop sales and higher dollar-based prices, Gartner Inc. said last week. PC manufacturers shipped 73.7 million units, compared with 79.8 million a year earlier, the market researcher said.
Shares of ASML have lost 19 percent this year, compared with gains of more than 30 percent in each of the past three years.
Before it's here, it's on the Bloomberg Terminal.
LEARN MORE