Analyst: There's a Growing Divide at the Fed, and It's Time to Brace for Higher Volatility
Dissent at the Fed and trouble with the Phillips Curve.
by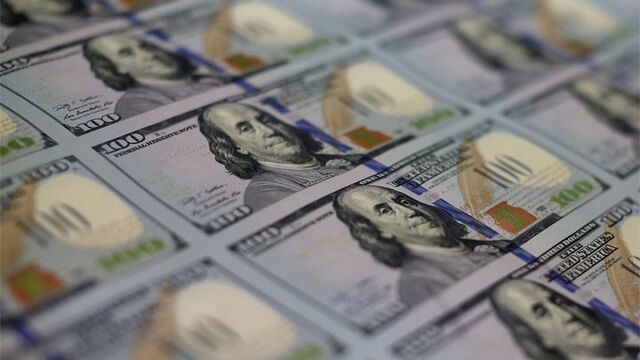 The U.S. Treasury will run out of cash on Nov. 10 if an agreement to raise the debt ceiling isn't reached by the time a $13-billion payment to Social Security recipients comes due, according to strategists at Jefferies.
With House Republicans struggling to find a new speaker, analysts at Goldman Sachs have said that: "Negotiations to lift the debt ceiling may be contentious and may not be resolved until the last moment."
Despite all the debt ceiling drama, Neil Dutta, head of U.S. economics at Renaissance Macro, says the Federal Reserve has supplanted Congress as the biggest source of policy uncertainty emanating from the nation's capital.
"The latest commentary out of the FOMC supports the idea that monetary policy not a government shutdown or debt ceiling showdown is the biggest source of D.C. uncertainty," Dutta wrote.
Over the past two days, we've learned that daylight exists between Fed Chair Janet Yellen and two of her colleagues on the Board of Governors of the Federal Reserve.
On Monday, Governor Lael Brainard said that global risks warranted a more cautious stance from the central bank. The next day, fellow Governor Daniel Tarullo indicated that he expects it will be appropriate to keep rates on hold through year end.
The details of their dovish commentary are much more noteworthy, as both appear to disagree with Yellen's description of what the Fed's reaction mechanism ought to be.
At the heart of the matter is the extent to which the progress made in achieving one part of the central bank's mandate (full employment) portends improvement in the other part (price stability, defined as an annual inflation rate of 2 percent).
The relationship between unemployment and inflation is typically understood in terms of the Phillips Curve, which holds that there is an inverse relationship between inflation and unemployment.
Yellen's previous remarks suggest she thinks a firming labor market will indeed lead to higher levels of inflation.
"To be reasonably confident that inflation will return to 2 percent over the next few years, we need, in turn, to be reasonably confident that we will see continued solid economic growth and further gains in resource utilization, with longer-term inflation expectations remaining near their pre-recession level," Yellen said in a speech on Sept. 24.
The governors are much more skeptical.
"I do think under these circumstances it's probably wise not to be counting so much on past correlations—things like the Phillips Curve, which really haven't been operating very effectively for 10 years now—and instead to really look for some tangible evidence of, for example, pickups in wages or inflation that allow us to make informed decisions based on the evidence," Tarullo said in an interview with CNBC.
Brainard issued what appeared to be an even more direct rebuttal.
"To be clear, I do not view the improvement in the labor market as a sufficient statistic for judging the outlook for inflation," she said. "A variety of econometric estimates would suggest that the classic Phillips curve influence of resource utilization on inflation is, at best, very weak at the moment."
Tim Duy, professor at the University of Oregon, declared Brainard's declaration to be a "policy bomb."
"... Now that Brainard has laid down the gauntlet, it will look very, very bad for Yellen and Fischer if their plans go sideways," he wrote on his Fed Watch blog. "Brainard muddied further the already murky December waters."
These statements suggest that Yellen may have a difficult time building support for a rate hike this year and could face opposition from those closest to home.
Historically, governors have dissented more than regional Fed presidents. When governors do vote against the committee's action, it tends to be in support of more accommodative, rather than tighter, monetary policy by a ratio of more than 3.5 to 1. However, over the past two decades, there have been as many dissents from members of the Board of Governors as there have been rounds of quantitative easing. The last such instance occurred more than 10 years ago, in September 2005, when Governor Mark Olson voted to leave the policy rate unchanged in the wake of Hurricane Katrina, rather than lift rates by 25 basis points.
In 1995, one Janet Yellen, then herself a member of the Board of Governors, explained why she disagreed with the chosen course of action, but would nonetheless vote in favor of it:
If we knew that we needed that increase in the funds rate, I do agree that sooner is better than later. On the other hand, a short delay imposes only a very minimal cost. I do not think we should feel compelled to raise the funds rate today, and I do see definite benefits from waiting a little longer to decide. I fear that if we act today, our move may turn out to be one we will regret…In spite of having said that my choice would be to wait, I intend to vote for your proposal. The reason is that I think the differences that we have largely concern tactics and not strategy. My guess is that, while I would prefer to wait, the probability is high that in three weeks I would want to go along, that I too would prefer a 50 basis point increase. I also grant that my views on tactics could be wrong and, therefore, I do not intend to dissent.
Are Tarullo and Brainard's objections in the present day more material than Yellen's were in 1995?
And, when push comes to shove, will the two end up supporting Yellen, Vice Chair Stanley Fischer, and New York Fed President William Dudley, who all support liftoff before year end?
This pair of unknowns makes policy uncertainty from the Federal Reserve of greater import than that from Congress.
"They either go in December or change their strategy completely—two diametrically opposed outcomes," wrote Dutta. "Now is the time to be taking steps to protect your portfolio against higher volatility."
Before it's here, it's on the Bloomberg Terminal.
LEARN MORE