VTB's Kostin Sees Russian Rate Cut This Month as Inflation Eases
Ryan Chilcote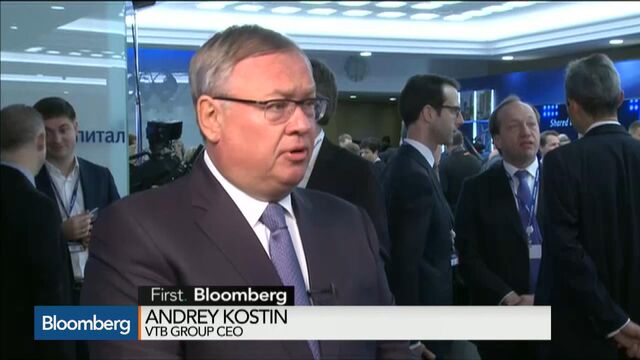 Russia's central bank is likely to resume cutting borrowing costs this month as inflation eases and the ruble strengthens, according to the head of state-run VTB Bank PJSC.
"I think between 50 and 100 basis points," Andrey Kostin, chief executive officer of Russia's second-biggest bank, said in an interview on Bloomberg Television. "I think it's reasonable taking into account the level of inflation and other circumstances."
The Bank of Russia kept its benchmark interest rate on hold at 11 percent in September for the first time this year as policy makers sought to temper the threat of accelerating inflation even as the country struggles with its first recession since 2009.
An inflation report last week showed price growth dropped pace unexpectedly for the first time since June to 15.7 percent in September. The ruble is rallying from a slump in July and August as crude prices rise and investors speculated the Federal Reserve will delay the start of U.S. rate increases.
Kostin said he sees the ruble exchange rate "roughly the same" by the end of this year.
Before it's here, it's on the Bloomberg Terminal.
LEARN MORE