Treasury Wine Buys Diageo Wine Assets for $600 Million
Angus Whitley and Thomas Buckley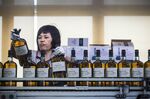 Treasury Wine Estates Ltd., the maker of Penfolds Grange, agreed to buy most of Diageo Plc's U.S. and U.K. wine assets for $600 million as it seeks to add high-end labels in some of the world's biggest markets.
The acquisition will be funded with new debt and a rights offering to raise about A$486 million ($350 million), the Melbourne-based company said in a statement Wednesday.
The deal gives Treasury Wine U.S. brands including Beaulieu Vineyards and Sterling Vineyards, as well as Blossom Hill in the U.K. The purchase will double the Australian winemaker's U.S. revenue from luxury and premium wine, it said.
"This acquisition will transform our U.S. business into a larger player of scale in the attractive luxury and masstige segments of the high-growth U.S. market," Michael Clarke, chief executive officer of Treasury Wine, said in the statement.
The sale by Diageo comes as the distiller seeks to get its biggest spirits brands back to growth after a two-year slump.
"Wine is no longer core to Diageo and this sale gives us greater focus," Diageo CEO Ivan Menezes said in a statement.
Earlier in October, the maker of Smirnoff vodka and Johnnie Walker scotch sold some of its beer assets, including its stake in the brewer of Red Stripe, to Heineken.
Diageo shares fell 0.8 percent to 1,827.5 pence at 9:12 a.m. in London, broadly in line with European stock markets.
Treasury Wine shareholders will be offered two new shares for every 15 they own, at a price of A$5.60 a share. That's 15 percent less than Tuesday's closing price of A$6.57.
Link to statement:Link
Before it's here, it's on the Bloomberg Terminal.
LEARN MORE