Traders Brace for Worst as U.S. Banks Kick Off Earnings Season
by
Put/call ratio on a financials ETF is highest since March

JPMorgan leads string of bank profit reports this week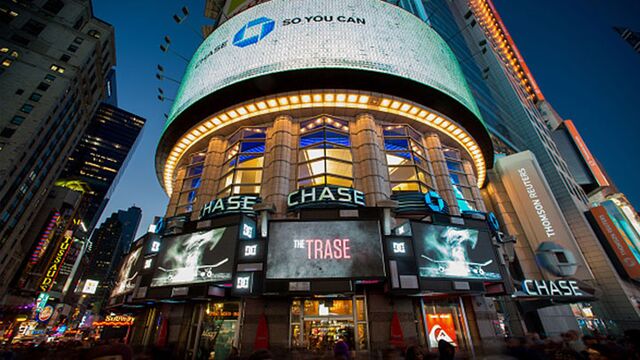 Options traders are showing caution ahead of earnings for the nation's biggest banks -- trepidation that holds ominous signs for the broader market.
JPMorgan Chase & Co. kicks off a string of results from the biggest banks this week, with economists forecasting that profits for the group will contract 5.4 percent in the third quarter. Financial firms wield the second-most earnings influence out of 10 major groups in the Standard & Poor's 500 Index, and a poor showing may challenge U.S. stocks' rebound from their biggest selloff in four years.

Investors are bracing for bad news, with the ratio of puts to calls on the SPDR Financial Select Sector ETF at its highest level since March. Short interest on the exchange-traded fund is almost double its one-year average, according to data compiled by Bloomberg and Markit Ltd.
"These are big and important components," said Michael Antonelli, an institutional equity sales trader at Robert W. Baird & Co. in Milwaukee. "They come early in the season, which puts some sentiment into the market and sets the tone. Financials is definitely one sector the market needs behind it if it's going to keep going."
Financial companies make up just 16 percent of the S&P 500 on a market capitalization-weighted basis, a distant second to technology among the 10 industries. Yet they account for 21 percent of earnings in the benchmark gauge, trailing slightly behind the tech group. The five percentage-point difference in banks' influence is the biggest between the two measures by a factor of five for any S&P 500 group.
U.S. stocks are entering earnings season just as the S&P 500 is climbing back from a 10-month low. The benchmark index has rebounded 8 percent since Aug. 25, including its biggest five-day gain of the year last week. Financial companies have jumped 4.8 percent from their August lows, though they are still down 9 percent from a seven-year high reached in July.
Earnings for all S&P 500 companies are expected to decline 7.2 percent for the quarter. Financial-services firms in the index are forecast to see profit fall by 5.4 percent, with diversified financial companies estimated to deliver a 6.6 percent decline.
The biggest banks by market weighting -- including Goldman Sachs Group Inc., Morgan Stanley, JPMorgan and Bank of America Corp. -- are particularly vulnerable due to their heightened exposure to capital markets in a volatile trading environment, Keith Horowitz, a bank analyst at Citigroup Inc., wrote in a client note on Monday. Trading profits will decline 5 to 6 percent on a year-over-year basis, the report said.
'Wildly Divergent'
The unpredictable nature of bank trading profitability may be pushing options investors to hedge investments, according to Steve Sosnick of Interactive Brokers Group Inc.
"When it comes to some of the larger banks, you can get some wildly divergent numbers on the capital markets side," said Sosnick, an equity risk manager at Timber Hill, the market-making unit of Greenwich, Connecticut-based Interactive Brokers Group. "You always have to look at bank earnings as something of particular importance to the market."
The ratio of puts to calls on the SPDR Financial Select Sector ETF was 1.29 on Friday, the highest since March 23, according to data compiled by Bloomberg. Short interest in the fund, or bets that it will drop, sits at 4.2 percent of shares outstanding. The one-year average for the measure is 2.5 percent, the data show.
While the put-call measure is showing conservative positioning ahead of financial earnings, the price relationship known as skew is "generally in-line with the prior three quarters heading into earnings," Jim Strugger of MKM Holdings LLC wrote in a client note on Monday. Skew reflects the implied volatility spread between options protecting against a drop in an underlying security, relative to securities betting on an increase.
Regardless of how you interpret the degree of hedging activity, financial stocks remain vulnerable to "another bout of weakness" if the Chicago Board Options Exchange Volatility Index moves back up into the low-20s, said Strugger, a derivatives strategist at MKM Holdings in Stamford, Connecticut. The measure of price swings had been below 20 for six straight days through Monday after trading above the level for 30 sessions, the longest such streak since January 2012. The VIX rose 9.3 percent to 17.67 at 4:15 p.m. in New York.
Once financial earnings are reported, the sector will continue to face hurdles in sustaining its recent stock rally, according to strategists at Cantor Fitzgerald LP. Of particular interest for investors will be the Federal Reserve's timetable for raising interest rates. Higher rates would mean more interest income for large lenders, though bond traders have pushed the odds that the central bank will act by January to below 50 percent.
"We'd be looking to aggressively hedge out bank exposures," Peter Cecchini, the New York-based chief strategist and global head of macro equity derivatives at Cantor Fitzgerald, wrote in an Oct. 8 note to clients. "Global regulation, the opacity of balance sheets, a flatter yield curve and lower economic activity will weigh heavily on multinational and money center banks."
Before it's here, it's on the Bloomberg Terminal.
LEARN MORE