The Milton Friedman Disciple With an Eye on Poland's Government
By
Economist's start-up party promises voters budget restraint

Polls show it may place as high as third in Oct. 25 election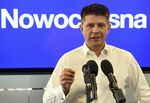 Ryszard Petru has a message that sounds rather unlikely for the leader of a small upstart political party in Europe nowadays: austerity is good, and so are markets.
The 43-year-old Polish economist is preaching the gospel of Milton Friedman -- lower government spending and tax cuts -- and Poles are listening. Petru's five-month-old party, Nowoczesna, is polling as high as 9 percent before Poland's Oct. 25 election, and it just might find itself as kingmaker as the two biggest parties slug it out.
"I would never support anything that could increase public debt or the state budget deficit and I would never support any incentives or privileges for interest groups," Petru said last week at his Warsaw office with its plain white walls and white furniture. "I won't agree to anything that could make the life of Poles and entrepreneurs harder."
Poland's election could be another watershed in what's become a momentous year for European politics, as voters decide whether to continue along the path charted in Brussels and Berlin or take a different tack. In southern Europe, the focus has been on sacrificing economic sovereignty to stay in the euro. In the former communist east, it's about reasserting control over national identity, borders and, of course, finances.
Online Donations
Polls show Nowoczesna, funded by private donations through the Internet, is set to become the third- or fourth-biggest party in parliament, the Sejm.
Petru, whose resume includes stints at the World Bank, Poland's former state monopoly PKO Bank Polski SA, and the local unit of Commerzbank AG, is leading the party's campaign, renting out a bus, painting it blue and putting his face on it. He appeals to those who want the country to quickly complete the overhaul of its $550 billion economy and cement the transition to capitalism over the past quarter of a century.
While Poland was the only European Union member not to suffer a recession during the global financial crisis, people are still leaving for places like Britain and Ireland. Poland's public finances aren't bloated by European standards, though Petru argues that a bigger debt mountain will prevent the country from catching up with the richer west.

The budget deficit is set to drop below 3 percent of gross domestic product this year from a peak of 7.8 percent in 2010. Public debt stands at 51 percent of GDP compared with an EU average of 88 percent.
'No Candy'
"The agenda of no pies in the sky, no candy and no empty promises means that Petru counts on the rational electorate and this may increase his credibility among Poles," said Olgierd Annusewicz, a political scientist at Warsaw University. "Support for Petru seems to be increasing as we get closer to the election and the shape of the future government may actually lie in the hands of smaller parties."
Central bank Governor Marek Belka said campaign ideas could destabilize the Polish currency and its banking industry, telling Politico in an interview published on Wednesday that "stakes in politics are not as low as people think."
Law & Justice, the conservative group that was in government from 2005 to 2007, is leading most opinion polls. Should the party fail to gain a parliamentary majority, Petru may be instrumental in creating a broad coalition around Civic Platform, which has been in power since 2007. The economist said he isn't ruling out any scenario as long as he's able to "defend disciplined budget policy."
Balcerowicz Revisited
Election promises from Law & Justice include a reduction in the retirement age and more benefits for families. They could quickly double the country's budget gap, Finance Ministry calculations show. On the other hand, the government seeks to give bigger tax breaks and seeks to prop up the coal industry, which lost 1.5 billion zloty ($380 million) in the first half of 2015, with help from other state-owned companies.
Petru wants to privatize mines, allowing them to cut costs and better cope with the lowest coal prices in at least eight years. His approach echoes that of his former professor and mentor Leszek Balcerowicz, the author of Poland's "shock therapy" market overhaul after the collapse of the central-plan economic system 26 years ago.
"I am definitely not an incarnation of Leszek Balcerowicz," Petru said. "He delivered the revolution that was necessary after 1989. Now, we only need a few little revolutions."