Wal-Mart Drags U.S. Stocks Lower While Dollar Falls on Fed Bets
By and
Gold and bonds gain as China, U.S. data spur growth concerns

Wal-Mart plunges most in 27 years on earnings outlook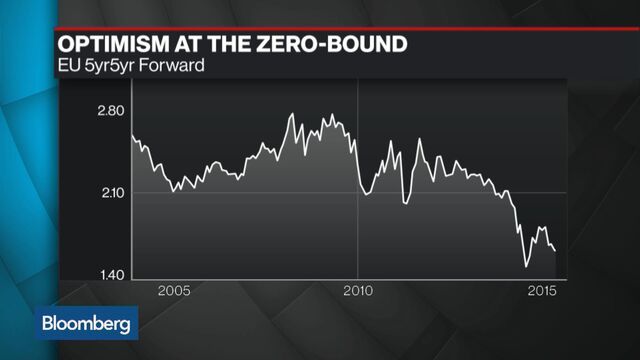 U.S. stocks were dragged lower as a bleaker outlook from Wal-Mart Stores Inc. added to global growth concerns. The dollar fell to the lowest in three months and bonds rose as investors became more certain the Federal Reserve will hold off on raising interest rates.
Wal-Mart had its biggest plunge in more than 27 years after predicting a decline in profit during the next fiscal year. Treasuries rose and the greenback weakened against all major peers as the odds that a U.S. rate increase will be delayed until at least 2016 climbed to the highest this year. Gold advanced to a three-month high.

"The probability of a global recession is rising as news out of China gets worse," said Hugh Grieves, who runs the U.S. Opportunities Fund at Miton Group in London. "As each data point comes out, positive or negative, sentiment lurches from one extreme to the other very quickly."
The global economy is already showing signs of stress, with weak data from China piling up and ripple effects being felt as far away as Brazil's deteriorating labor market. The growing evidence of a slowdown is validating the Fed's decision last month to hold off on raising interest rates. For investors looking for more clarity on the outlook for corporate earnings, today's results provided little comfort.
The drumbeat of weaker-than-expected economic data continued today as Chinese producer prices matched their biggest slump since the global financial crisis. In the U.S., retail sales rose less than forecast and wholesale prices dropped, posing a problem for the Fed as it looks for signs inflation is moving toward its target. Meanwhile, analysts project profits for S&P 500 members dropped 7.2 percent in the third quarter.
"The market is very fragile when it comes to the growth story right now," Mark Kepner, an equity trader at Themis Trading LLC in Chatham, New Jersey, said by phone.
Stocks
The Standard & Poor's 500 Index dropped 0.5 percent, after slipping for the first time in five days on Tuesday. The Dow Jones Industrial Average lost 0.9 percent as Wal-Mart accounted for 45 points of the gauge's 157-point drop.
Wal-Mart plunged 10 percent, its biggest loss since 1988. The retail chain said earnings will decrease 6 percent to 12 percent in fiscal 2017, which ends in January of that year. Analysts had estimated a gain of 4 percent on average according to data compiled by Bloomberg.
"Wal-Mart's sizable reset of expectations has shaken the overall market," said Chad Morganlander, a money manager at Stifel, Nicolaus & Co. in Florham Park, New Jersey, which oversees about $170 billion. "Investors are reconsidering their future forecasted growth rates for S&P earnings."
Reaction to earnings from the largest U.S. banks was mixed, with JPMorgan Chase & Co. falling 2.5 percent after cautioning that trading this quarter is off to a tepid start, while Bank of America Corp. added 0.8 percent after its quarterly profit rebounded as expenses fell.
TripAdvisor Inc. surged 26 percent after announcing a deal with Priceline Group Inc. to bring the online travel company's catalog of hotels into TripAdvisor's booking system. SanDisk Corp. jumped 11 percent as people with knowledge of the matter said the chipmaker hired a bank to explore a potential sale.
Bonds
The yield on U.S. 10-year Treasuries dropped 6 basis points to 1.98 percent. German bunds rallied, with the yield on 10-year bonds falling 5 basis points to 0.54 percent. Yields on similar-maturity securities from the U.K. tumbled 7 basis points to 1.76 percent.
Fed officials last month left interest rates unchanged, opting to monitor the risk that China's slowdown could spill over to the U.S. Traders' bets that the Fed will lift its benchmark by year-end have dropped to less than a 30 percent chance, and aren't much higher for January. For March, the probability has tumbled to about 50 percent, from 66 percent at the start of the month.
Fed Governor Daniel Tarullo told CNBC yesterday that he doesn't currently favor raising interest rates in 2015. That lines him up with fellow Governor Lael Brainard, who made the case on Monday for patience, and diverges from the majority of Federal Open Market Committee members including Fed Chair Janet Yellen.
China sold 10-year bonds with the lowest coupon since 2008. The $4.4 billion of 10-year notes had a coupon of 2.99 percent, which was lower than the 3.1 percent median estimate in a Bloomberg survey.
Currencies
The Bloomberg Dollar Spot Index, a gauge of the U.S. currency against 10 major peers, slid 0.9 percent, touching its lowest since June 30. The dollar dropped to its weakest in seven weeks versus the euro and down for a third day against the yen. Canada's dollar advanced 0.9 percent.
The pound rose as a report showed the U.K.'s unemployment rate unexpected fell to the lowest level since mid-2008. Sterling climbed 1.5 percent to $1.5483, its biggest gain since May.
New Zealand's dollar added 2.4 percent, after central bank Governor Graeme Wheeler said further easing will depend on economic data. Singapore's dollar snapped a two-day drop, rising 1.3 percent as the city state's monetary authority, the only advanced economy regulator to use the exchange rate as a key policy tool, said it would "slightly" reduce the pace of the currency's appreciation versus trading partners.
Emerging Markets
The Hang Seng China Enterprises Index of mainland shares traded in Hong Kong dropped 1 percent in its first back-to-back decline in more than two weeks. The Shanghai Composite Index slid 0.9 percent.
China's consumer-price index increased 1.6 percent in September from a year earlier, while producer prices fell for a 43rd month.

The MSCI Emerging Markets Index fell for a second day, losing 0.1 percent. South Africa's rand and Turkey's lira gained, helping an index of 20 currencies rebound from the biggest decline since March.
Commodities
Gold futures added 1.2 percent to $1,179.80, the highest since June, as further signs of tame global inflation weakened the case for the Fed to raise U.S. interest rates. The metal had a fourth straight gain, and is up more than 5 percent this month, on track for the biggest rise since January.
Copper rose 1.2 percent, rebounding from an earlier decline.
West Texas Intermediate fell for a third day, dropping 2 cents to $46.64 on the New York Mercantile Exchange, after paring an earlier loss of 1.5 percent.