Russia's Nabiullina `Fairly Sure' Inflation Can Reach 4% in 2017
by and
Central bank won't target inflation at any cost in short term

Governor says economy can grow even with high interest rates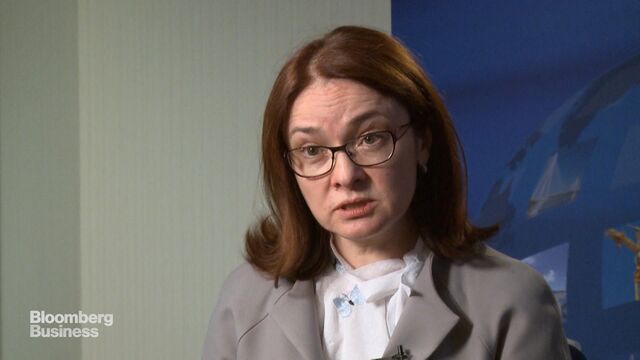 Taming inflation remains a "strategic" goal of Russia's central bank, whose governor said she's "fairly sure" of reaching a 4 percent target for price growth in 2017 even after oil-price weakness dragged down the ruble.
While still a priority, monetary-policy makers aren't willing to rein in inflation at any cost in the short term, Elvira Nabiullina said Tuesday in Moscow. Economic expansion is possible even with high interest rates, she told a conference organized by VTB Capital.
"Though price stability is our key mandate, we're of course pursuing a policy in accordance with the situation in the Russian economy, the entire balance of risks," Nabiullina said. While Russia's 11 percent benchmark interest rate is choking investment, "it's possible to achieve economic growth even in the present conditions."
Nabulina is facing a policy dilemma as Russia endures its first recession since 2009, while consumer-price growth has doubled in the past year. The central bank last month refrained from cutting its main interest rate for the first time in 2015 after the ruble weakened 15 percent in the third quarter and policy makers sought to temper the threat of accelerating inflation.
Balancing Risks
The currency strengthened 0.3 percent to 62.08 Tuesday against the dollar as oil prices advanced 1.1 percent to $50.39 a barrel in London. The ruble is rallying from a slump in July and August as energy prices rise and investors speculate the Federal Reserve will delay the start of U.S. interest-rate increases.
While September inflation slowed for the first time since June, reaching 15.7 percent, weak oil prices remain a risk, according to Nabiullina.
"The fall in oil prices may lead to certain pressure on the ruble rate and may have inflation risks," Nabiullina said in an interview with CNBC. "That's why we monitor them very carefully -- all external factors, whether they put upward pressure or downward pressure on inflation -- in order to make decisions that take into account the balance of the risks of inflation and economic growth to achieve our goal to stabilize inflation"
Before it's here, it's on the Bloomberg Terminal.
LEARN MORE