Ruble Drops as Nabiullina Warns on Russia's Crude Oil Dependence
by
Brent fell 5.3% on Monday, biggest drop in more than 1 month

Finance Ministry offering 1st linkers since July in auction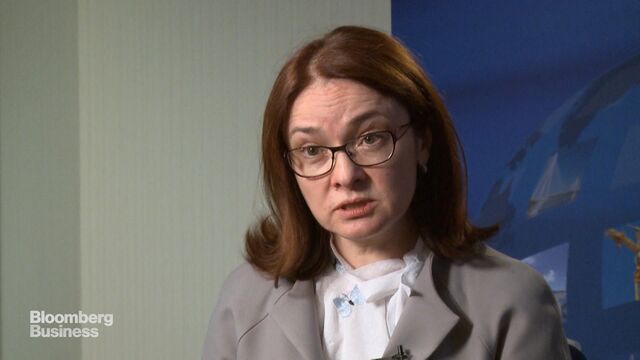 The ruble had its longest streak of declines in a month after crude slumped and as Russia's central bank Governor Elvira Nabiullina warned the currency is too dependent on oil-price swings.
Brent's 5.3 percent tumble on Monday contributed to the Russian currency's drop against the dollar today, trimming a month-to-date gain. Russia relies on crude and natural gas exports for almost half of its budget revenue and the correlation between the ruble's movements and oil is close to a record.
"The exchange rate largely repeats the movements of oil," Nabiullina said in an interview with Bloomberg Television at an investor conference in Moscow today. "To bring an end to them moving in sync, the economy needs to be diversified."
The Russian currency traded down 0.4 percent at 62.5100 as of 7:12 p.m. in Moscow, dropping for a third day. Government ruble bonds fell for a second day, lifting the yield three basis points to 10.69 percent. Brent added 0.5 percent after dropping the most since Sept. 1 on Monday.
Russian stocks, bonds and the ruble rallied last week as crude surged and investor optimism the that Federal Reserve won't raise rates from close to zero bolstered appetite for emerging-market assets. The gains on Russian markets came even amid mounting Western concern over the goals Russia is pursuing with air strikes in Syria.
Ignoring Syria
"We're still simply tracking the oil," Aram Kazaryan, foreign currency and interest rates derivatives trader at MDM Bank PJSC in Moscow, said in e-mailed comments. "All geopolitical factors are completely ignored, including Syria."
After selling out 17.8 billion rubles ($283 million) of bonds at last week's government bond auctions, the Finance Ministry will offer 20.2 billion rubles of inflation-linked securities due August 2023 on Wednesday. While Russian inflation has been slowing, the yield on the government's fixed-coupon five-year bonds is less than zero when adjusted for consumer price growth, boosting the appeal of the linkers.
Rate Wagers
Annual price growth unexpectedly decelerated in September to 15.7 percent, slowing for the first time in three months as the first recession since 2009 chokes domestic demand. Forward-rate agreements show derivative traders, who a week ago forecast a rate increase in the next three months, now see a two basis-point cut.
Russia kept its benchmark borrowing costs on hold last month for the first time this year to avoid weakening the ruble and stoking price growth. The country's inflation outlook will probably allow for further monetary easing as the one-time factors behind the upswing in price growth are fading and domestic demand is weakening, the Bank of Russia's Nabiullina said.
Yandex NV led gains on the benchmark Micex Index, surging 10 percent to close at 814 rubles. Yandex agreed with Microsoft Corp. to become the default search engine on devices powered by the Windows 10 operating system in countries including Russia, Turkey and Ukraine. Google Inc.'s share of searches among Russian users rose to 35 percent in September from 27 percent in January 2014, while Yandex's share fell to 57 percent from 62 percent, according to LiveInternet data.
The Micex closed up 0.6 percent at 1,720.81.
Before it's here, it's on the Bloomberg Terminal.
LEARN MORE