business
Prius Takes on Diesels as Hybrids Seen Gaining From VW Scandal
By and
New Prius to achieve 40 kilometers per liter in Japan testing

Hybrids seen benefiting as regulators toughen diesel testing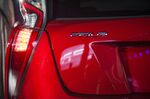 Toyota Motor Corp. said it set out to match the performance of diesel engines in developing its new Prius, as analysts predict gasoline-electric hybrids to benefit from Volkswagen AG's emissions-rigging scandal.
Certain grades of the Prius that goes on sale in Japan in December will achieve as much as 40 kilometers (25 miles) per liter under Japan standards. The car's engine has thermal efficiency of more than 40 percent, a key to fuel economy and on par or better than diesel engines.
"For a long time our dream has been to catch up with the diesel efficiency," Shunsuke Fushiki, a Toyota engineer for hybrid vehicles, told reporters Tuesday in Tokyo. "We've been successful in achieving this."
The Prius reigns over the global hybrid vehicle market, with more than 3.5 million units sold since its introduction in 1997. The fourth-generation model debuts by the end of this year in Japan amid heightening scrutiny of vehicle emissions and growing mistrust of the auto industry following Volkswagen's admission to cheating on pollution tests.
Toyota officials declined to discuss Volkswagen's scandal in particular or any potential shift in demand between diesel and hybrid vehicles. The carmaker will continue to develop diesel engines in parallel with hybrids, Fushiki said.
"If a tough approach is taken to the introduction of real driving emissions testing, higher-than-expected costs would be unavoidable for both diesel and gasoline engines," Takaki Nakanishi, a Tokyo-based analyst at Jefferies Inc., wrote in an Oct. 9 report. "This would very likely increase the relative competitiveness of gasoline hybrid vehicles."
Consumer mistrust of automakers' claims about the cleanliness of their diesel engines may combine with stricter emissions policies in Europe and the U.S. in necessitating costly updates that would make the powertrains more expensive, according to Bloomberg Intelligence. This may push consumers to cheaper gasoline vehicles or fuel-efficient hybrids, analysts Tanner Murphy and Kevin Tynan said this month.
Before it's here, it's on the Bloomberg Terminal.
LEARN MORE