Osborne Aims to Exploit U.K. Labour Splits With Fiscal Charter
Robert Hutton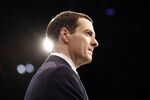 U.K. Chancellor of the Exchequer George Osborne will try to exploit the divisions within the opposition Labour Party when he asks Parliament to vote on his fiscal rules.
The Charter for Budget Responsibility, which will be debated in London on Wednesday afternoon, commits the government by law to achieving a budget surplus by 2020 and maintaining surpluses during "normal times" thereafter. Britain had a deficit equal to 5 percent of economic output in the latest fiscal year.
Labour's Treasury spokesman, John McDonnell, labeled the charter "a trap for us to fall into" in September and proved the point on Monday by reversing position and announcing he'd vote against it.
"A fortnight ago, Labour told voters they were ready to back our plans," Osborne said in an e-mailed statement ahead of the debate. "But now they have confirmed they want to go on borrowing forever –- loading debts onto our children that they can never hope to repay. I call on all moderate, progressive Labour members of Parliament to defy their leadership and join with us to vote for economic sanity."
The McDonnell U-turn, which drew strong criticism from others in Labour, including his predecessor, Chris Leslie, highlighted the gap between the new party leader, Jeremy Corbyn, and his lawmakers, who are openly critical of his hard-left stances. Supporters of Corbyn have set up a new group, Momentum, to put pressure on lawmakers to back him.
McDonnell, who said he wanted to reinforce Labour as an "anti-austerity party," insisted his stance on the budget hadn't altered.
Parliamentary Tactics
"I haven't changed my mind on that, but I have changed my mind on the parliamentary tactics," he told Sky News television. "Originally what I said to people was 'this charter is a political stunt, it is a political trap.'"
The change came about after he visited a steelworks in northern England that is being shut down, McDonnell said.
"I met the steelworkers and I had families in tears about what's happened to them as a result of the government failing to act," he said. "It brought it home to me and I don't want the Labour Party associated with this policy."
Before it's here, it's on the Bloomberg Terminal.
LEARN MORE