Megabrew by the Numbers: A $106 Billion Deal in Four Charts
by and
AB InBev's focus on U.S. and Brazil now problematic: analysts

Bud brewer may need to sell $10 billion MolsonCoors stake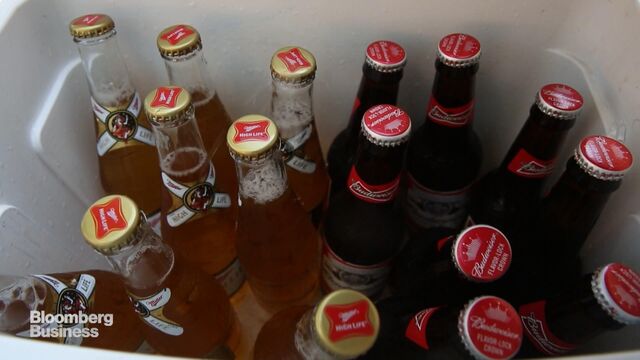 The proposed combination of Anheuser-Busch InBev NV and SABMiller Plc would sell one out of every three beers brewed worldwide, and reap about half of the beer industry's profits. Here's a look behind the deal.
AB InBev relies heavily on sales in North America and South America. That's problematic, analysts say, as U.S. sales of mainstream suds like Budweiser and Bud Light have fallen for several years as tastier craft beers gain more drinkers. In Brazil, AB InBev's second-biggest market, beer shipments declined 8.6 percent in its most recent quarter. There, growth has been stunted by weakening consumer sentiment and rising inflation.

Buying SABMiller would diversify the Budweiser maker's portfolio. AB InBev would gain access to more than $7 billion in African revenue, from brands such as Castle Lager and Carling Black Label. SABMiller generates almost a third of its revenue and profit from Africa, the world's fastest-growing beer market. About 65 million Africans are due to reach the legal drinking age by 2023, and AB InBev would like to serve them a Budweiser. Here's what the combined company might look like:

About 30 percent of SABMiller may need to be sold to satisfy antitrust regulators, according to Pablo Zuanic, an analyst at Susquehanna Financial Group LLP. The most obvious candidate for divestment is SABMiller's 58 percent stake in the MillerCoors joint venture in the U.S., where AB InBev is already clear market leader. Analysts at Nomura estimate it would probably cost partner Molson Coors Brewing Co. more than $10 billion to buy out the venture.

At least four other businesses are likely to be jettisoned, with the next being China Resources Snow Breweries Ltd., a joint venture with China Resource Enterprises that sells beer brands including Snow, the world's top-selling beer by volume. SABMiller's 49 percent stake could be worth as much as $5 billion, according to Nomura's Edward Mundy. AB InBev should try its hardest to reach a deal with the Chinese government that would allow it to keep the stake in Snow, Zuanic said.

Before it's here, it's on the Bloomberg Terminal.
LEARN MORE