Land Rover Demand in U.S. Reverses Tata Motors' Bond Risk Surge
by
Jaguar Land Rover U.S. sales rose 61% in best-ever September

S&P says China slowdown will continue as drag on finances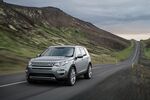 Bondholders in India's Tata Motors Ltd., anxious over the impact of slumping China demand on its finances, have found a silver lining in surging U.S. sales for its Jaguar Land Rover unit.
The cost of insuring the debt against non-payment has dropped 30 basis points in October, after jumping 92 basis points in the previous two months, according to data provider CMA. That's more than twice the decline in credit-default swaps on State Bank of India. The yield on Tata Motors' 2020 dollar bonds is falling for the first time in five months.
The automaker draws 83 percent of its revenue from JLR, which saw U.S. deliveries surge 61 percent in September as the Range Rover and Evoque sport-utility vehicles lured buyers. That should soften the blow from a slowdown in China, which has dragged down Tata's profit for four straight quarters and prompted Standard & Poor's to revise the company's outlook to stable from positive on Sept. 29.
"Sales in other geographies will partially reduce the pain JLR has been feeling in China," said Juergen Maier, a Vienna-based fund manager at Raiffeisen Capital Management, who oversees about $1 billion in assets including Tata Motors shares. "We need to see if they can continue to show similar numbers in the coming months."

Cheap credit, Labor Day deals and relatively low gasoline prices buoyed America's love of pickups and SUVs as U.S. auto sales accelerated more than estimated in September. JLR's U.S. sales increased to 6,850 units and Joe Eberhardt, its chief executive officer for North America, said Jaguar's performance will get a boost from the introduction of the new XF sedan this year and upgrades of other models in 2016.
On the other hand, consumers in China have over the past few months canceled or postponed purchases as a stock-market rout and a weak economy sapped discretionary spending. The state-backed China Association of Automobile Manufacturers in July forecast total vehicle sales will grow this year at the slowest pace since 2011.
Offsetting Weakness
"We believe the slowdown in Chinese demand, the key driver for growth for JLR and other luxury carmakers in the past few years, will result in weaker operating performance and lower margins for Tata Motors than we had previously anticipated," S&P wrote in its Sept. 29 statement. "We're optimistic that continuing growth in other international markets and planned new launches for Jaguar can offset some of the weakness in China demand from fiscal 2017."
The yield on Tata Motors' dollar bonds due April 2020 has fallen 24 basis points in October to 4.49 percent on Wednesday, data compiled by Bloomberg show. It climbed 63 basis points in the previous four months. In the stock market, the company's shares have surged 20 percent so far in October, breaking a seven-month losing streak and heading for their biggest advance since January 2012.
New Models
JLR is relying on the introduction of new models and also expansion in Europe as it sees profit margins in China narrowing in the year through March 2016. Tata Motors' net income fell 49 percent to 27.7 billion rupees ($425.8 million) in the three months through June, trailing the 31.4 billion-rupee median estimate in a Bloomberg survey. Profit at JLR dropped 29 percent to 492 million pounds as it posted a 33 percent decline in deliveries in China.
S&P expects weaker-than-previously-estimated financial ratios for Tata Motors in the year ending March 2016 as JLR continues to "invest heavily," with more than 3 billion pounds of annual investments for new product development and emission and safety controls, according to the ratings company's statement. It affirmed its BB long-term ratings on Tata Motors and the firm's U.S.-dollar denominated senior unsecured notes.
"A lot of the Tata Motors story is about how JLR performs," said Abhishek Dangra, S&P's Singapore-based director for corporate ratings.
Investors will also draw some comfort from data released Tuesday that showed SUV deliveries jumped 60 percent in China last month to become the only passenger-vehicle category to register a sales increase. Light-commercial vehicles, a category of mini-goods carriers often used as passenger transport, tumbled 36 percent, according to figures provided by the China Passenger Car Association.
"Weakness in China sales is still a drag, but it seems the worst is behind them," said Raiffeisen Capital's Maier. "The new models are key to boosting their numbers."
Before it's here, it's on the Bloomberg Terminal.
LEARN MORE